4 Scary Truths About Information Products
Thursday, October 30th, 2014
Last night I got the Amazon delivery for Colten, our 2-year old's Halloween costume.
I wish I could say it was scary, but he's just going as a firefighter.
Fire Truck are his 2 favorite words right now. At his birthday party a few weeks ago he called for the fire truck to blow out the candles on his cake, for fear that the fire on the candle was going to burn the party down to the ground.
And thus, here we are. What you have below is epic-ally long. Proceed only if you want to improve your income, your happiness with the work you do and the live you think is waiting for you on the other side…
Today I wanted to talk to you about 4 scary truths about creating information products and being in the information business.
It is a scary world out there. There are a lot of scary people selling scary products with scary promises and getting ghost like results.
And there are great products I keep seeing that have more dust on them than in an ancient haunted house.
Scary Truth #1 – It's not about your product.
This is scary. And it's even more scary if you have been putting weeks, months or years into "perfecting" your product, never letting it see the light of day.
This business isn't about a perfect product. It's about framing a perfect transformation in the minds of your market.
It's about getting them to buy into you and your ability to help them make that transformation.
Think about the last few people you have bought products from…
I bet they are all personalities.
Brian Tracy, Frank Kern, Dan Kennedy, Brandon Burchard, Ryan Diess, Tony Robbins. I could go on and on and on.
We buy products from them, not because they are perfect products, but because we believe in them as the person that can help us get the result we want.
Shoot, Dan's products sell for thousands of dollars, including one that I made for him, and they are essentially unedited transcripts and photocopied, hand-written notes. I have products from Dan that were recorded at Live
Events and they never turned the mic off, nor edited out the bathroom breaks and there is 15 minutes of static before everyone gets back in their seats.
But the product is the best product on that given topic because I believe in Dan and what he is teaching me.
Scary Truth #2 – You Can't Grow A Real Business For Free
This one hurts. I know it does. The allure of free traffic, or just finding Joint Venture traffic or blog a bunch and they will come is incredibly appealing.
But it's just not true.
You do need to spend money to design your product cover, and I'm not talking about Fiverr.
You do need to spend money on a copywriter if you can't write effective copy yourself.
You do need to spend money on a good website and product delivery platform
And here is the biggie….
To make real money in this business you need to spend money on marketing.
You need to spend money on generating QUALIFIED leads, you need to spend money in marketing to them after they come into your funnel (maybe even send them a sales letter in the mail, GASP!) and then you need to spend money on your clients and customers once they come into the door (a newsletter is a good start).
I have just built, in the last month a brand new, from scratch 6-figure information business in the financial market.
I spent money on a full-page magazine ad, drove traffic to a free report and put them into a 3-video sequence selling a very high ticket done for you information system.
We then researched, by hand, everyone of the opt-ins, by hand and found most of their addresses and mailed them all a sales letter and the replay of the 3rd video (the sales video).
I then delivered the product by mail, in a big, colorful 3-ring binder.
I also send them a print newsletter that is about $10 in cost as well as a "surprise" package of goodies they weren't expecting.
And you can do this too.
Instead of buying another $2,000 course – BUY an ad. BUY some traffic.
I love hearing from folks on consulting calls that they have no money to buy even $10/day in Facebook ads but they will happily buy the next "cool kids" product for $2,000.
Invest money in acquiring customers and keeping customers and you will never have a scary encounter come rent check time.
Scary Truth #3 – You Need To Write (A Lot)
If you are afraid of putting in the work, of tying your boots and firing up Microsoft Word (or Evernote, where I write everything from emails to sales letters to video scripts), then you are in the wrong business.
This is the information business. It is your sole purpose to create and sell information.
And to build a real career in this business, you need to write to your market and write to them a lot.
You need to create deep, emotional relationships with your market.
They might buy once for a quick hit or they need something now, but they will only stay with you and buy from you over time if you have a true relationship with them. If they feel like they know you.
You can only get this done through writing. It's why a client/customer newsletter is key. Nothing builds a relationship better than a print newsletter.
It's also in email copy.
In webinar scripts.
In sales videos that you should be scripting.
In order forms.
In thank you pages.
In special reports.
And on and on and on.
Every month, for just 1 of my info businesses, I am writing or delivering:
A 12-page client newsletter
A 7-20 page supplemental newsletter
2 scripted and outlined 60-minute live coaching videos
Weekly client emails about updates in their program
2 sales webinars
3 emails promoting each webinar and 3 emails providing replays for each webinar (12 emails just for webinars)
1 special report (reports go lame like everything else…and if they didn't want one report, give em another report)
1 new sales video that is a demo of what the new product looks like
This is not bragging. This is work. This is sustainability. This is what not only keeps the lights on, but gives me the most freeing lifestyle.
Start learning to write, or this business will eat you alive.
Scary Truth #4 – What You Are Really Selling Is You
This goes hand in hand with #1. But you are not selling products or services or whatever thing you think you are selling.
You are really selling yourself. You are in, what Gary Halbert calls, the self-agrandizement business.
You must be front and center in your business. Every great information publisher and marketer is a persona, a character.
Look at the list from above, nearly all of you know them, get emails from them and could recognize them in a crowd. They are celebrities in their world. Not to the whole world, just the world that they want to own.
You must do the same.
You cannot hide behind a character. It's too easy to slam you or give bad reviews with social media today. You must get in front of the camera and be the point person running your business and getting the results your customers want.
If you don't, you'll be out of business real fast.
These are 4 scary truths about this business.
It's not what you wanted to hear. You wanted to hear that it's all 4-hour workweeks and hitting send with a templated email and having money shoot out of your CD-ROM drive (do they still have those?).
If I haven't scared you away yet, I want to help you.
And I have 3 things for you today that you are going to want to stick around to learn more about and yes, invest in.
This year I have done some incredible things in the information world, even though I haven't really been front and center in the information guru land.
In the last 6 months alone…
I've created a product for, structured the launch of and wrote copy on behalf of my mentor and legend Dan Kennedy that has gone on to sell multiple 6-figures worth of product.
I've created an info product for a former NBA star that played side by side with Michael Jordan during one of his championship seasons.
I've been interviewed by Brian Tracy on establishing trust in a world that doesn't want to trust you.
I've shared the stage with Kevin Harrington of Shark Tank fame, Dr. Nido Qubein, Brian Tracy, Dan Sullivan, Lisa Sasavich, Peter Diamandis, Nick Nanton and others and hosted 2 TV Shows – Times Square Today and Hollywood Live.
I've helped build multiple, from scratch 6-figure and growing info businesses for clients that had never even dipped their toes into this world.
Just this Tuesday, I hosted a special 2-hour Live Video Broadcast with Dan Kennedy (quite possibly the first time the guy ever used Skype) to launch a brand new niche info marketing business.
I've even built 2 new 6-figure info-marketing product suites of my own, using a done for you info services model.
This is not bragging. This is to show you that I know how to create info marketing superstars.
And today, for the first time in months, I want to take you behind the scenes with me.
The first piece is a 4-module training program on creating and launching Big Ticket Information Products.
It's called the Backstage Pass: Living Legends Edition.
In it, you will see exactly how we created a product for the Godfather of information marketing, Dan Kennedy, that we sold at $1,997 and made the cash registers ring in the tune of multiple 6-figures in revenue.
But you don't just see how to create a product. You get to see how we positioned it, how we screwed the whole thing up, how we rebounded, how we marketed it and how we sold it.
You get all the launch videos, all the email copy, the sequences, the landing pages and everything else that went into this monster 6-figure launch.
In module 1 you get to see behind the scenes on how we created the product and it directly relates to Scary Truth #1 above. You'll get a walk through on what's inside, how we pulled it off and how to position what seems like ordinary information into a Big Ticket price tag.
In module 2 you get to see the entire pre-launch marketing strategy. You get to see the funnel, the landing pages, the email copy that drove more than 2,200 leads and hear me explain how and why we did everything so you can copy it for your own success.
In module 3 you get to see how we sold it. From the sales video to the Live Streams, the cart open and the cart close emails – you will see how we sold a product for $1,997 and shipped them out in droves. You will also get access to the 4-hour Live Day With Dan, that we filmed in Cleveland, OH. The only other place you could have seen this is if you own the product or were there live. No replay has ever been shown. SOme have said this training was better than the product itself and it's yours today.
In module 4 you get something I have actually, never done before – teach copywriting. You'll get my secret formula for writing personality driven copy that my clients have paid up to $103,000 per year to get their hands on. You'll get headline checklists, email copywriting tips, direct mail copywriting tips and quick-cut shortcuts that have taken me years and thousands upon thousands of dollars of testing to figure out.
And this is just 1 of 3 things I want you to have this Halloween.
Thing #2 is my client and off the market newsletter, the Backstage Pass. I want to give you 6 back issues that I've only ever sold publicly once at $77/mo, have gotten.
Each issue is a look into how I think about marketing and also includes a backstage pass into copy that I have written for myself or clients that have produced huge windfalls of sales.
You'll get them to read, download, print, highlight and implement as part of my Halloween Candy Package for you today.
Finally, thing #3. You get me. For 30-minutes. On the phone. One-on-one.
This is a no frills call with me to give you a gut check and a strategy to build your information business.
Let me be clear, this is not a sales pitch in disguise. It is me helping you, building a plan like the one I put together for Dan, like the one I've shared with my NBA star client, like the plans my clients pay $24,000/year or more to get.
You can right now but a 1/2 day of my time for $3,000. Or you can get 30 minutes for nothing when you invest in this Halloween package today.
I want you to win. I want you to overcome the scary truths I have laid out for you today and put forth your best work. The work you care about. The work that can change lives.
And sell it. Make a great living by helping others.
So here is the deal.
It's Thursday, the day before Halloween.
I am going to keep the shopping cart open through Sunday. Probably Sunday afternoon. It won't be late Sunday because my 2 little guys make me go to sleep early these days.
Why close the cart at all?
It's simple. I want you to make a decision. I want you to really truly want this. To want what's possible by selling your information, your skills and knowledge to help others.
If you are serious, there is nothing to think about.
This material will help you to fast track your success in this industry. It will help you to quickly create and launch a high ticket product and not just keep thinking about it.
Hopping on the phone with me will motivate you to GET IT DONE.
And if you cannot make that decision in 3.5 days, you probably don't want it that bad.
So what's the investment?
It's $397.
One time.
You are reading the sales letter. There is no elaborate video or fancy graphics to entice you.
If you want to see how I do it, did and keep doing it, this is the program for you.
Enroll now and you will get near immediate access (I have to manually enter you into Kajabi, since I am doing this on the fly).
I know you are going to love the content and the training. More importantly, you are going to take the templates, the blueprint, the emails, the copy and JUST DO IT.
You can consider this a launch. Sure. And I am following the scary truths from above.
1. It's not about the product, it's about the transformation. I didn't even tell you how the course was delivered, I just want you to know that after going through it you'll have every ability to create and market a high ticket product.
2. It's about self-agrandizement. You are seeing what I did, what my team and partners did to make money and you are seeing a demonstration of my magic powers in this longer-than-anythingyou've-read-this-week email. But you are still reading, aren't you. Which is also #3
3. And I've spend good money to build this email list that you are on. You must have done something right to get on this list. And you must like something I have to say to still be on it.
So that's it. Join me. I think you'll love it.
If you want in, click here now.
You can see the 3 things you are investing in on that link. No fancy copy, in fact it's terrible and dull, just a list of 3 features.
I do hope that you join me and that I can be the one to help you launch your product, course, training or complete information business.
Have a very Happy Halloween and talk soon,
Greg Rollett
P.S. I always love Frank Kern's P.S. writing. So much better than everyone else.
A P.S. is very important as people tend to skip down to it and get the Cliff's Notes about what you want them to know. I'm going to break that rule. If you want to know the 4 Scary Truths and a solution to them, read the long email.
I'll take some P.S. time to say thanks. Thanks for being a subscriber. Thanks for reading. Thanks for wanting to change your life, the life of someone else and your financial situation.
I can't think of anything cooler to do than to create something that will impact the lives of others. Good for you for doing it. If you aren't doing that, you should. Beats the heck out of working in a cubicle, with a boss that stresses you out, where you make bad eating decisions and go home grumpy.
I prefer to write a bunch of words, pound the keys and inspire folks.
Anyhoo, go read this longer than it needs to be email and join me on a really cool journey. You'll love being a part of this from the inside.
---
ProductProcast Episode 19 – How To Get Started
Friday, May 30th, 2014
Welcome to episode 19 of The ProductProcast! Today I'm having a discussion with our own in-house Production Coordinator, Dan Perichino, about where to get started in your own information product business. I know we talk a lot about what to do with these products, how to market them and how to be seen as the top celebrity expert in everyone's' marketplace, but we've never really covered how to start your own information product!
So, how do you start? How do you come up with a solid idea? Once you have that idea, how do you know it will sell? What kinds of actionable steps can you take to get the ball rolling on your product? Dan and I will answer these questions and share our experiences while making not only products for our clients, but our own here at The ProductPros.
If you are for looking for help to create your own information products, send an email to dan@productprosystems.com. We can talk one on one about making this happen for you!
After you listen to this episode, I encourage you to leave us a review on iTunes and help us continue to spread the information marketing message with the world.
Click here to check out the leading information marketing podcast on iTunes today!
See you in the next one,
Greg
People In This Episode:
Greg Rollett
Dan Perichino
Podcast: Play in new window | Download | Embed
---
ProductProcast Episode 18 – Radio Sales Funnel
Friday, March 21st, 2014
Welcome back to episode 18 of The ProductProcast! I'm over in Cleveland for the Dan Kennedy Titanium Mastermind and want to give you an inside scoop at my new radio show on FM WFLA 102.5 Orlando – how I landed in the studio; how it works, and most importantly – how I create a sales funnel out of it.
In this behind-the-scenes episode, I want to give you guys an exclusive look at how my funnel sequence works. So grab your laptop, tablet, pen and paper, and get ready to write down some bullet points that could boost profits for your business.
I'm going to explain my Welcome Packages, Shock and Awe Boxes, and something that I offer for free to all the listeners of my radio show. It's called the Ultimate Celebrity Expert Marketing Package, and you can get one too by heading over to RollettReport.com.
If you are for looking for help to put together these types of offers for your business, send an email to dan@productprosystems.com.We can talk one on one about making this happen for you!
Tune in to Orlando's FM 102.5 WFLA every Wednesday following Dave Ramsey at 6PM EST, or tune in worldwide on IheartRadio to listen the The Rollett Report!
After you listen to this episode, I encourage you to leave us a review on iTunes and help us continue to spread the information marketing message with the world.
Click here to check out the leading information marketing podcast on iTunes today!See you in the next one,
Greg
Podcast: Play in new window | Download | Embed
---
ProductProcast Episode 17 – Brian Kurtz
Wednesday, March 5th, 2014
Welcome back to episode 17 of the ProductProcast! In this episode, I discuss direct response marketing with my friend Brain Kurtz. Brian has overseen the mailing of approximately 1.3 billion pieces of third class mail over the past 20 years, and is here to share some of his knowledge.
Brain is all about returns on investment and the importance of understanding and knowing your audience while compiling your lists. No matter how big or small your list may be, you still need to segment your list – and Brian will detail how the whole process works.
What comes first – the chicken or the egg? The product, the audience, or offer? What even goes into these campaigns? Brain will introduce something called the Concept Test to simplify the whole procedure.

After you listen to this episode, I encourage you to leave us a review on iTunes and help us continue to spread the information marketing message with the world.
Click here to check out the leading information marketing podcast on iTunes today!
See you in the next one,
Greg
Podcast: Play in new window | Download | Embed
---
ProductProcast Episode 16 – Organizing Your Input
Wednesday, February 26th, 2014
Welcome back! In episode 16 of the ProductProcast, we're going to talk about organizing our input. It's all about the concept of generating enough content to have enough output.
As Dan Kennedy says, "Without input, you cannot have output." Well, I'm going to show you where to find input, both through print and online, and how to keep it all organized with some amazing tools.
We are in the content business. Remember that. As an expert, people want content from you and they want more.. and more… and MORE. You want to control a spot in their brain. To do that, you need new stuff even if it's wrapped around the same schtick.
I'm also going to share some exciting news with you – my new radio show, tentatively titled The Rollett Report, is premiering March 5th on Orlando 102.5FM, 540AM & iHeartRadio – I will be able to show you behind the scenes: How it's working and the offers we are putting together… so stay tuned!
Takeaways from this episode:
Dan Kennedy's events, writing, strategies & Mastermind highlights (Living Legend Formula SuperConference Preview)
Where to find input
How to organize with Evernote & other filing systems
After you listen to this episode, I encourage you to leave us a review on iTunes and help us continue to spread the information marketing message with the world.


Click here to check out the leading information marketing podcast on iTunes today!
See you in the next one,
Greg
Podcast: Play in new window | Download | Embed
---
ProductProcast Episode 15 – Dr. Rick Kattouf
Saturday, February 22nd, 2014
Welcome back to episode 15 of the ProductProcast. In this episode, I  team up with nutrition and fitness expert, Dr. Rick Kattouf and discuss how to develop and build an efficient coaching business. Rick is the best-selling author of "The Secret to Winning Big" with Brian Tracy, founder of Team Kattouf Nutrition Supplements & creator of Coach 2 CEO. Dr. Rick is known for his triathlon and ironman coaching… but he's known for doing all of it virtually. So – how does he do it?
The online coaching world opens up the ability to help manage clients lifestyle and training 24/7!
"Coaching is a collaboration. Its two individuals – client and coach coming together. Great communication by both parties; the understanding of what the client is looking for and great listening skills by the coach to implement the right plan for the client. But here's the collaboration – the client has to do their 110% and bring their energy and focus to the table!"
Dr. Rick explains how to monetize your online coaching business while efficiently managing your time. So, what's his secret?
Never. Setting. Limits.
Visit Dr. Rick Kattouf's website at www.teamkattouf.com
After you listen to this episode, I encourage you to leave us a review on iTunes and help us continue to spread the information marketing message with the world.
Click here to check out the leading information marketing podcast on iTunes today!
See you next time,
Greg
P.S. Here is a sneak peek at Rick's new product, Coach2CEO that I helped him put together. If you are a coach in any business, I advise checking it out.
Podcast: Play in new window | Download | Embed
---
ProductProcast Episode 14 – The Affiliate Solution
Tuesday, February 4th, 2014
Welcome back to episode 14 of the ProductProcast. In this episode, I share my Grammy Awards weekend experience – including a surprise celebrity run-in. In this exciting episode, it's really all about affiliate marketing. I am going to reveal the best strategies for not only gaining new affiliates and joint venture partners, but how to do this without even having to pay for them.
Learn all about guest blogging, how to research the most influential people in the industry and the best way of working with them – for free.
Newsletters, trade publications, and trade journals are especially underutilized today, and I will show you how to use these mediums to thrive and grow in your industry and niche.
Remember – you are in the content industry. You need to create content. If you don't have content that you can keep creating over and over, you need to get that – or change your market, right?
You have to go out and seek that opportunity! How do you do this? Don't wait for opportunity to find you – create these channels so YOU create the opportunity. It's all about hard work.
After you listen to this episode, I encourage you to leave us a review on iTunes and help us continue to spread the information marketing message with the world. After leaving a review, send an email to greg@productprosystems.com – I will send you my content-creation course, "Leveraging OPA", valued at $49.00 – absolutely free!
Click here to check out the leading information marketing podcast on iTunes today!
See you in the next one,
Greg
Update! After sending this episode out to the old email list, a friend from the music marketing business, Ben Sword, sent me this post he wrote that details guest blogging in detail and is required reading for anyone interested in using this strategy.
Podcast: Play in new window | Download | Embed
---
The Believe System By Nick Dillon
Tuesday, February 4th, 2014
Today I am excited to share with you a product that was a long time in the making. Almost a year ago Nick approached me about putting together a product. And in that year we have put together an incredible program that his audience is going to love.
Nick is a professional life coach who helps his clients in person growth, relationship and career coaching from Milwaukee, WI. And one thing Nick knew was that putting down his system into a training program was another way to share his message and get people to change their belief system to live a more optimal life.
When asked about his goals for the program Nick mentioned,
"My goal was to put together a program that would help individuals and entrepreneurs evaluate what they BELIEVE in and follow the steps to creating change and reinforced positive beliefs to the success in their personal and professional life."
The product that is going to help individuals and entrepreneurs is called The Believe System; 7 Proven Steps To Personal And Professional Success. The Believe System is a proven system of 7 steps that guides you to success in your personal and professional life. The word BELIEVE is the driving force behind the program's framework:
B – Believe in Your Greatness
E – Eliminate self-doubt
L – Live on Purpose
I – Invest in yourself
E – Expect your best efforts
V – Value yourself
E – Enjoy Yourself
The System is packaged to allow an individual to be able to work independently at their own pace. It comes with a 8 audio CD's, a Manual, and an Action Guide.
Nick has been very proactive in using the program already and has big plans for it's roll out and said;
"I am planning to market this product to all of my clients, network, and businesses seeking training workshops for their leaders & sales workforce. The System is also an excellent tool I have already used for company retreats, workshops and seminars."
Finally, when asked about working with us here at the ProductPros he wrote;
"The Product Pros provided me a very professional venue and operation to be able to put this program together while at the same time, incorporating my brand, which ultimately produced an awesome product that allows me to remain competitive in the marketplace. Greg is an awesome guy to work with. I really respected his input and suggestions throughout this process and it is my belief that he is a highly regarded expert in this product development space."
Thanks for the kind words Nick and more importantly thank you for taking this process and putting it into motion to help more people with your information. To learn more about Nick, please visit www.nicholasdillon.com today.
And if you would like to see how we can help take your information and turn it into a profitable information product, or a full-blown information business, please give us a call at 800.980.1626 or email me directly at greg@productprosystems.com.
---
ProductProcast Episode 13 – 6 Trends From 2013
Saturday, January 4th, 2014
Hooray, it's the first episode of the ProductProcast in 2014 and we are pumped and excited for what this year has to offer.
2013 was an incredible year for our clients who launched some incredible information businesses, added information marketing and training into their private practices and even participated in some of the biggest product launches of the year for any industry.
My job in this world is to keep my finger secured on the pulse of the industry to see what everyone from the Internet Gurus, to the investment newsletter guys, to healthcare, fitness and obscure niche marketers are doing to make money using their information. From their marketing to their content, their business models to their backends, 2013 was a year that saw a little change coming for many information marketers.
In this episode of the ProductProcast, I explore 6 different trends I saw in 2013 and how they affect you moving forward in 2014 as you continue to put the pedal to the metal and use information as your own pathway to financial freedom and success.
Enjoy this episode of the ProductProcast and please, leave us a review on iTunes. If you do, and you shoot me an email to greg@productprosystems.com after you do so, I will send you a copy of my Best-Seller's Bundle – a collection of chapters I have written in numerous Best-Selling books with the likes of Dan Kennedy, Jack Canfield, Brian Tracy and others.
Click here to check out the leading information marketing podcast on iTunes today!
Happy New Year and talk soon,
Greg
Podcast: Play in new window | Download | Embed
---
ProductProcast Episode 12 – The ProductPlus Model
Sunday, December 1st, 2013
Welcome back to Episode 12 of the ProductProcast. After a few weeks off, I finally had a few minutes to jump into the booth and record an episode for you and it's one of my favorites.
In fact, the message of this episode was going to be a new training program that I want to put together, but said to heck with that, let's just talk about it on the mic and send it out to you! Sounds much better, right?
Anyway, the topic of Episode #12 is all about a new information marketing business model that I have been testing and have been testing with my clients over the past few months with incredible results. You see, I love information products and they are what started me in this business, ever since the New Music Economy.
But, having to continue to sell lower priced products to an abundance of clients again and again to hit income numbers is tough. That is why we have been creating a business based around higher ticket done-for-you services like the ProductPros and Celebrity Expert Marketing.
I call this new model, the ProductPlus Model.
And so, today I share with you this new thinking and how we have been applying it to our own businesses with smashing success.
After you listen to the episode, I encourage you to leave us a review on iTunes and help us continue to spread the information marketing message with the world.
And please let me know how I can help you to create this ProductPlus Model in your own business by sending me an email to greg@productprosystems.com
Till next time,
Greg
Podcast: Play in new window | Download | Embed
---
ProductProcast Episode 11 – Lessons From Hollywood
Wednesday, October 2nd, 2013
Episode number 11 is coming to you short and sweet after an incredible week in Hollywood, CA with my team and over 200 Best-Selling Authors from across the world. After delivering 2 days of solid content, hanging out with Jack Canfield, Tom Hopkins and Rudy (yes, that Rudy), I wanted to share a few of the countless insights from the Best-Seller's Summit.
Please enjoy this episode and be sure to subscribe to the ProductProcast on iTunes and leave us a review, just as "shnize" has, who we shout out in Episode 11.
Many more pictures to come if you follow along on Greg's Facebook page.
—–> Click here to download in iTunes.
-Greg
P.S. For more information about the ProductPros, please message Greg at greg@productprosystems.com.
Podcast: Play in new window | Download | Embed
---
ProductProcast Episode 10 – Troy Broussard
Tuesday, September 24th, 2013
Wow, episode 10 already! And this is a good one. In fact, we recorded it live in the ProductPros studio, together.
Troy is someone I met through another guest of the podcast, Seth Larabee at a dinner event here in Orlando. And after some quick convincing, I was able to get Troy over to the studio to record a really cool episode about creating a back end for your information business, networking and the power of charging premium fees.
Troy is a top information marketer who has had success growing several multi-million dollar businesses and now shares his advice as a coach at the high-end level. In this interview, Troy shares his best success tips on entrepreneurship and ROI. Don't miss this exciting episode to take your business to the next level.
In this episode, you'll gain inside info on how to:
Create opportunities for business and networking in order to grow your business
Establish yourself as an expert and, in turn, increase your ROI
Gain the most value out of every customer
Create a successful business that supports the lifestyle you desire
——> Click here to download this Episode on iTunes now.
Be sure to leave us a review and let Troy know what you thought about this episode of the ProductProcast!
-Greg
P.S. I am off to Hollywood, CA for the 4th Annual Best-Seller's Summit and Golden Gala Awards. Looking forward to meeting 200 or so Best-Selling Authors along with Jack Canfield, Tom Hopkins and Rudy – yes, that Rudy. Looking forward to sharing some insights on the show when I get back!
Podcast: Play in new window | Download | Embed
---
ProductProcast Episode 9 – The Kajabi Guys
Tuesday, September 17th, 2013
Join us this week on The ProductProCast as Greg talks to 2 of the most lively developers and designers in all of information marketing – Kenny Rueter and Travis Rosser, the co-founders of Kajabi. For those unfamiliar with Kajabi, it is an incredible all in 1 platform to host your launch pages, sales pages, squeeze pages and even the content delivery of your information product.
Kajabi has become the de-facto standard for anyone wanting to quickly and painlessly post content online and charge for access to it. Through the process of building a tool that solved a problem that they themselves had, Travis and Kenny have built a service that helps the masses monetize their knowledge….and they are just getting started.
In this episode, you'll gain inside info on how to:
Make your product and site look appealing so it attracts the right kind of customer, decreases refunds and deliverers an incredible customer experience
How to take the offline unwrapping process offline
How to make a launch work from a technical standpoint
The 2 aspects of the sale of your product – the marketing and sales side and the delivery side
An inside look at how Kajabi was created and what they are up to next….
A special story about their most exciting moment since launching Kajabi
And so much more!
You can check out Kajabi here now.
——> Click here to download this Episode on iTunes now.
Be sure to leave us a review and let Kenny & Travis know how what you think about Kajabi and the information they have shared with you today.
-Greg
P.S. Over the past few days I have been sharing details of a new training program that has been released by my mentor Dan Kennedy. He is a guy that I have learned an immense amount from over the past 5 years and now have a library of well over $20,000 worth of training and education from him that I turn to whenever I need a creative spark.
His latest program, Lifestyle Liberation Blueprint just went live and it is going to be the go-to resource for the next generation of leading information marketers.
Here is the link to check it out.
If you do decide to invest in the training program through my affiliate link above, I will be hooking you up with a killer bonus program. I am releasing a new newsletter next week at our annual Big Event – The Best-Seller's Summit.
The newsletter is called the Backstage Pass and is a complete breakdown of winning sales copy that I have written. From why I wrote it, to the headlines, to the emotions I am trying to touch on to the design and delivery. It is one of the most gruesome trainings I have ever put together and I've only completed month 1!
When you invest in the Lifestyle Liberation Blueprint, I will give you a full year's access to the Backstage Pass. I am unveiling it next week for $77/mo and you will get it mailed to you on the house.
You can grab the new Kennedy training or watch his launch videos here.
Podcast: Play in new window | Download | Embed
---
ProductProcast Episode 8 – Jess Todtfeld
Monday, September 9th, 2013
Have you ever found yourself frozen behind the lens of a camera?
Have you made a habit of robotically reciting words from a cue card during important interviews?
Join us this week on The ProductProCast as Greg invites trusted media expert and President of Success and Media, Inc., Jess Todtfeld, to share his expertise on putting your best face forward in media. Todd is THE go-to guy for media and business communication training. Having been featured on The Daily Show, NBC, CBS and FOX, Todd uses his experiences to show YOU how to take your business to the next level through media. You don't want to miss this exciting interview that will help make a big impression in the media.
In this episode, you'll gain inside info on how to:
Make a powerful impact on your audience through interviews and media
Be your authentic self behind the mic to make a powerful impression
Use stories to add value to your audience
Be confident and natural behind the lens of a camera
——> Click here to download this Episode on iTunes now.
Be sure to leave us a review and let Jess know how he has helped you to think about how you approach getting in front of the camera or behind the mic.
Podcast: Play in new window | Download | Embed
---
Behind The Scenes With Terry Jackson
Tuesday, September 3rd, 2013
There comes a time when everyone needs to take a deeper look within themselves. To push harder. To go farther. To do something that they have not yet achieved in order to be in a place they desire.
For many, we turn to someone in the personal development field. From books to seminars, programs to coaches and mentors. We look to find inspiration in someone that has gotten over the mountain top and survived to tell the world about it.
In the information marketing world, this is a multi-billion dollar industry. From those books to events, coaching and yes, product creation, this market place is growing stronger year by year. The core reason – we all want more from our lives and are looking for someone to help us get there.
Terry Jackson is one such coach and mentor, as well as a transformational leader. He knows the power of helping others achieve greatness and as such, has created the program, Personal Mastery: It's Time To Transform, Inspire, Motivate and Empower.
Terry goal with this product is simply to help others. He says, "My goal is to put this product in the hands of all who feel they are living a unfulfilled life. Not only can they use the product but they can also teach their children how to plan their lives."
This is the kind of impact you can have in this market. In fact, it's what motivated him to create the product in the first place, saying, "The motivation behind developing the product is my passion to help others improve their quality of life."
He wants to help others create greatness in their lives on goes on to say,
"Greatness is not some elusive abstract idea. Greatness is a mathematical equation. This Personal Mastery system provides you with that equation.

The Personal Mastery Series provides a roadmap for anyone in the search for Greatness. This roadmap enables one to examine their life by developing a Personal Strategic Plan and shows all how to Accelerate the achievement of new goals contained with the Personal Strategic Plan.

The Personal Mastery process enables the creation, implementation and execution of your Personal Strategic Plan. This will open the door to your Personal Greatness."
When Terry came to us, it was clear that he had this greater vision for those he had the opportunity to come across. We were very happy to help take his vision and put it into a system that will help hundreds, if not thousands of people from all over the world to discover their own greatness.
When asked about working with the ProductPros, Terry stated,
"The ProductPros were the vehicle that helped my bring it all together in an effective delivery system the enables others to learn and implement my system."
And that's what we do best!
To learn more about Terry Jackson, to help get his product into the hands of your audience, or to pick up a copy yourself, please head on over to www.tjackphd.com
---
ProductProcast Episode 7 – Jon Le Tocq
Wednesday, August 28th, 2013
On this episode of The ProductProcast, Greg invites Jon Le Tocq, founder of Storm Force Fitness, to talk about creating the lifestyle you want through your business. Learn how Jon started his own brick and mortar business in the UK to help support his ideal lifestyle as well as how you, too, can earn the income you need to live the lifestyle you've dreamed of.
In this episode, you'll gain inside info on how to:
Define your ideal lifestyle
Create a business that generates the money you need to live the lifestyle you desire
Gain and RETAIN customers that will keep your business running and the money rolling
Balance your growing business with your ideal lifestyle
Mentioned on this Show:
If you enjoyed this episode of the ProductProcast, please visit us on iTunes and leave a review so we can continue to bring you great guests and honest information about creating and profiting from your information business.
—> Click here to visit us on iTunes now.
Podcast: Play in new window | Download | Embed
---
ProductProcast Episode 6 – Justin Brooke
Wednesday, August 21st, 2013
This week on The ProductProCast, Greg invites online marketing expert, Justin Brooke, to share his best ideas on gaining more traffic to your site. Justin is the owner of IMScalable.com, a company that specializes in using data-driven online advertising to drive people to your products and services.
In the last 6 years, Justin has generated BILLIONS of ad impressions, MILLIONS of page views and more importantly, millions of dollars in sales. Don't miss this opportunity to hear how to strategically combine your marketing and advertising efforts to drive more traffic to your business.
In this episode, you'll gain inside info on how to:
Implement simple steps to make major differences in your traffic flow
Drive traffic to your products and services via social media
Use the right keywords to gain the right customers
Turn leads into PAYING customers
Mentioned on this Show:
Learn more about Justin Brooke at IM Scalable.
If you enjoyed this episode of the ProductProcast, please visit us on iTunes and leave a review so we can continue to bring you great guests and honest information about creating and profiting from your information business.
—> Click here to visit us on iTunes now.
Podcast: Play in new window | Download | Embed
---
ProductProcast Episode 5 – 5 Product Creation Secrets
Wednesday, August 7th, 2013
–> Click here to subscribe to the ProductProcast in iTunes now.
In this episode of the ProductProcast I am going solo! This episode was actually recorded in my hotel room in Philadelphia during the 2013 National Speakers Association's annual conference. I was out there along with the ProductPros team exhibiting and speaking at the event.
During my time there I got to hang with some incredible people, meet old friends and make some new ones. We even found ourselves shutting down a Supper Club, signing K-Ci and Jojo along with what only could be described as Glee with Steaks!
There was even an early evening with entrepreneurs Chris Ducker and Ashley Ambirge, 2 people that I admire and have incredible businesses you should check out. They both will be joining us on a future episode soon. You can see a nice shot of us below.
Now to business!
At the event I was asked to present on ways that speakers could create information products to increase their revenues and grow their business when they were not speaking. I decided that I wanted to get right down to business and give them the best content I had in a relatively short period of time. I only have 15 minutes and in that 15 minutes I shared "The 5 Ways To Package, Produce and Profit From Your Information."
After I got back to the room that night I thought it would be a great Podcast for those just getting started with their information businesses so I did what any overtired, sleep deprived entrepreneur would do – I broke out the mic and got it done (there is a lesson in there for another time and another place).
So please, enjoy the episode and if you got anything useful, I do encourage you to share the episode with others or leave us a review on iTunes.
See you next week where I bring to you the incredible Justin Brooke on the ProductProcast!
-Greg
P.S. If you would like to learn more about developing your own information products, and have me and my team create your InfoProductBlueprint, check out this special offer I am still running from the NSA Conference!
Podcast: Play in new window | Download | Embed
---
ProductProcast Episode 4 – Seth Larrabee
Wednesday, July 31st, 2013
4 episodes in the bag already and we are just getting started.
This episode is all about relationships. When I talk to clients the number one resource I tell them to get started in creating is relationships with key influencers in their market. This is the fastest and most profitable route to success in the information business.
Long-term I believe you need to be able to generate your own traffic and sales through advertising, but when getting your first product to market, there is no better way than with other people's audiences.
I brought Seth Larrabee onto this episode to share with everyone how he literally came from out of nowhere to cultivating relationships and getting on the radar of every major player in the online marketing space. This has allowed him to create products and a coaching program that has not just changed Seth's life, but the lives of those he impacts through his teaching.
Seth and I have cultivated a great relationship that has gone from Facebook to live events to grabbing dinner and drinks in his hometown of Delray Beach – real proof that this stuff works.
In this episode you will learn exactly how to cultivate real relationships and how to build a business based around finding a need in your market and then solving that need. This is the power of the information world and Seth is a great guy to help you get there.
To learn more about Seth, check out SethLarrabee.com.
You can listen to this episode below or check it out and subscribe on iTunes now.
After you listen, leave us a review and let us know what you learned from this episode that you can implement into your business right away!
And if you need help in creating your information business, please reach out and setup an Info Business Blueprint Session so we can help you to share your message with the world. To do so, please email greg@productprosystems.com.
See you in #5!
-Greg
Podcast: Play in new window | Download | Embed
---
ProductProcast Episode 3 – Los Silva
Monday, July 29th, 2013
Welcome to Episode 3 of the ProductProcast. Before we begin I want to thank everyone for their comments and feedback on the first 2 episodes. It is truly humbling to thing that I can talk into a computer and impact so many people.
I know it's what I teach here on a daily basis, but everyday I get to do the things I love with the people I love.
Today in episode 3 I get to bring in a friend that just might become a regular on the show – Los Silva. We live just a few blocks away and both get to work behind the scenes with the biggest names in the business.  The cool thing about being behind the scenes is seeing what really goes down behind closed doors when the cameras and emails are off.
If you know me I am far from perfect and do my best to be 100% transparent. Sometimes in this business we tend to only show the good and not the bad and the ugly – and trust me, there are a lot of times we are thankful the camera is off.
Lucky for you, the microphone was on for this episode of the ProductProcast. In it, Los and I talk about generating a back-end that extends beyond your product. It's one thing to sell a few products and get some customers. It's a completely different ball game to have a real, legit, long-term information business that is predictable and scalable.
In this episode we give you some ideas to go beyond the product and start to develop that complete information business that allows you to live an optimal and freeing lifestyle.
Check out the episode below or on iTunes here.
After you listen to the episode, please leave us a review to let us know what you think and how we can continue to give you the best possible information and resources to share your message, story and information with the world.
Till next week,
Greg
Podcast: Play in new window | Download | Embed
---
ProductProCast Episode 2: Andy Drish
Thursday, July 25th, 2013
In Episode 2 of the ProductProCast I am excited to bring on one of my good friends in this business, Andy Drish of the Foundation.
Along with Dane Maxwell, they have created one of the most engaged and successful coaching and information businesses in the world. Their track record speaks for itself.
What many don't know is that Andy and I actually started out as 9-5'ers in an "angry Gen-Y" blogging community before finding this information business model that keeps the lights on for us these days.
In this episode I wanted to talk to Andy about a few key things in your information business:
How to take care of your customers after you make the sale

. So many information businesses sell hard on the front end and never truly take care of their customers the way they should that will allow them to get the results they desire. Andy and Dane have done an incredible job of creating a system to ensure the success of their students.
What to do when stuff hits the fan. Launches are great. They are sexy and have the ability to bring in a lot of traffic, leads and customers. But they do not go down without a few hiccups here and there. Andy shares how to cope with potential disaster and turn it into a long-term positive for their members.
We talk about creating and establishing a personality driven business. A year ago, no one knew who Dan Maxwell was. Now he is a friggin rock star and so is Andy.

How did they use their personalities to become Celebrities in their market?

Listen to find out…
Good ol Frank Kern – we trade war stories about studying Mass Control and the impact it has made on us as marketers.
And so much more!
If you enjoyed the episode, the best way to show some love is to leave a review on iTunes. It is not the easiest thing to do, but it really helps us to get these shows into the hands of those that need to hear it.
To learn more about Andy and the Foundation, head on over and watch what might be the best launch video ever created (hear how it was created in the episode!).
And if you need help in creating your flagship product or need someone to create your information business for you, give me a shout anytime, by emailing greg@productprosystems.com.
Till next episode,
Greg
Podcast: Play in new window | Download | Embed
---
ProductProcast Episode 1: The Rise Of The ProductPro
Thursday, July 25th, 2013
Welcome to the 1st episode of the ProductProcast. This show has been a long time coming and finally we have liftoff!
You can subscribe on iTunes by clicking here now.
The goal and purpose of the ProductProcast is to share my insights into the information business – from product creation, marketing, packaging your unique abilities and creating more freedom in your life, this is your backstage pass to the people, the places and the action that goes on in creating, developing, launching and running a successful information marketing business.
I thought for this first episode that I take you back through my journey as a white rapper in a rock band and how that transitioned into creating an online music marketing empire that featured online training programs, relationships and partnerships with the biggest names in the business, how I established expert status that literally came from nowhere and then leveraged that authority to create an online product suite that at one time included Clickbank products, a WordPress Theme, membership community and a high ticket back-end product that I sold and marketed from my bedroom.
You can see the New Music Economy product here, still for sale all these years later.
This industry has given me everything I could have imagined and more. From working with the top guys in the business to sitting in a Sky Box at the Grammy Awards and allowing my wife to stay home and take care of my amazing son without having to worry about how we were going to put food on the table.
And now I get to share my success with you. Both through the services we offer at the ProductPros, but also in this Podcast. I have always been someone who opens up and just tells it like it is, asks the hard hitting questions and delivers killer value.
What better way then by getting back behind the microphone, channel my inner Jay-Z hustle and give you great content, week in and week out.
If you like the episode, please subscribe on iTunes and leave us a nice rating. It helps us to reach more people and help them to share their life's story to impact the lives of others.
Enjoy my story and look out for the next few episodes featuring Andy Drish from the Foundation, Los Silva, traffic master Justin Brooke, lifestyle master Jon Le Tocq and more.
Now, go out, package your story and change someone's life!
-Greg
Podcast: Play in new window | Download | Embed
---
Friday, July 5th, 2013
Happy 4th Of July (just a day late!)
As I start to recover from yesterday's festivities (taking your 9 month old to hear fireworks without some noise canceling headphones is just the first of the lessons I learned), I got an email from Rock Star Podcaster John Dumas that a recent interview we did together has gone live on his daily show – Entrepreneurs On Fire.
If you haven't heard of the show, you need to! John has interviewed Tim Ferriss, Seth Godin, Chris Brogan and, well…guys like me!
And yesterday the episode went live. We talk about information marketing and it's power to create freedom and independence for you – as it has for me, as well as some of the biggest roadblocks I faced in growing my business.
If you have a few minutes this holiday weekend, be sure to download the episode and throw it on your iPod.
Click here to check it out now.
After you listen, show John and Entrepreneurs On Fire some love, by leaving a comment or subscribing to the show on iTunes.
Again, you can listen to my episode here now.
Talk soon,
Greg
---
Product Spotlight – My Release Plan
Saturday, May 4th, 2013
Today we are once again turning the spotlight onto fitness. In this product spotlight we are heading beyond the weights and the workouts, the food and the diets and getting into your mindset.
Deb Cheslow and Angie Flynn created My Release Plan, a 9-CD, DVD, Action Guide and more program, because, in their own words,
"we were frustrated by the numbers of people we could reach with one-on-one or even group coaching, face-to-face. Systemizing the program into a physical product extends that reach exponentially! It allows us to reach millions of people instead of only hundreds or thousands. It also gave us a platform from which we can offer the system to corporations as a standalone or an add-on program in their corporate wellness arsenal."
That is an incredibly important lesson for you to take-away. Information based products allow you to share your ideas with a nearly unlimited amount of people that you can never get to one-on-one. And you don't even need to be in the office when a sale comes in.
My Release Plan is a very unique product in that it has gone above and beyond just a set of CD's and a manual. In fact, there is a Quick Start Guide, a Goal Card an Accountability Agreement to sign and a 90-day journal so you stay committed and motivated to complete the program and get the results you desire. I asked Deb about the reasons for creating such an in-depth program:
"We have been teaching the concepts that are contained in the My Release Plan program for over a decade and every single person we have personally "coached" has gotten great results, so we captured the system in a book, which quickly became a Best-Seller. However, we found that the book wasn't enough to produce lasting behavior changes. My Release Plan is a system that builds in the discipline, accountability and standards. People learn in different ways, so we thought it important to include visual, audio and written components to cater to different learning styles. The program is definitely comprehensive – it has the "thud" factor. That is because we wanted to provide every single tool that we discussed in the program so there is no excuse for anything but success! Now every single person can benefit from a system that's proven effective for over a decade, that is captured in a Best-Selling Book, and get the personal coaching that makes it all work. This is definitely NOT diet program #65,001!"
During the process, we went through book drafts, workbooks, a live workout filming in the office and a few sets of edits to the entire program. It has become a real work of art and once again, I'll leave it to Deb to share what it was like to create the program with our team:
"Our strength lies in our unique system and our ability to convey the information and to connect personally with the participant. Although we COULD have figured out how to produce a product eventually, why should we reinvent the wheel? The ProductPros organization is simply OUTSTANDING at what they do – from technical know-how, to conceptualizing innovative ways to showcase our content, to designing the packaging and even fulfilling orders – their strength is producing information products that allow you to get your information out into the marketplace without having to physically be there. It is so rare to find a company that meets our own high standards and expectations. The ProductPros overdelivered in a huge way –they went above and beyond our expectations to help create our vision for this product, on a very short timeline and for a very reasonable fee. Greg and his team have a fantastic system that makes an information product doable for anyone."
Well, thanks Deb! It helps when you have 2 subject matter experts that are truly passionate about helping people to change their lives and come out a better person than they were going in.
You can check out My Release Plan and get yourself on the path towards losing (or releasing as they put it) weight and feeling great this New Year by visiting www.myreleaseplan.com and clicking on the Books and Products tab.
As you begin to think about the information that you have that will help people, I want you to think about how best you can get your customers to apply the information you are teaching them. It's one thing to educate, it's another to stimulate change in someone and that is exactly what Deb and Angie have been able to do in creating the My Release Plan training program.
To request your own free product consultation to see how you can turn your information into profits, contact Greg Rollett, the ProductPro, at greg@productprosystems.com or call 800.980.1626 today.
---
Greg Rollett Featured On Inc.com
Friday, March 1st, 2013
Today, Greg was featured alongside other leading members of the Young Entrepreneur Council on Inc.com in a spread about creating great business videos.
You can see the post here and below you can see what advice Greg gave for the piece.
The first time I tried to shoot myself on video was not pretty, but it was profitable. I used a precursor to the Flip Camera, put it on a bar stool with some books stacked up to make a tripod and nailed some whiteboards into my wall. The result was a four-video product that still sells to this day. The point is not to let technology stop you, but rather create a story worth listening to.
The product Greg is speaking of is the New Music Economy, a 4 video training program he created for independent musicians to help them learn about marketing and cultivating a fan base.
If you are looking to add a video product to your business, check out Greg talking about how he can help you put it all together in this quick video he shot just for you.
---
Saturday, February 16th, 2013
Today I wanted to share a quick video that I shot at Casa Hogar in Acapulco, Mexico a few weeks ago.
I spent 4 days down there painting walls, putting together computers and filming a documentary about the orphanage.
The great thing about this trip is that it reminded me about the power of information. Giving these kids the ability to get online, do research, explore and dream by reading books, doing homework and connecting with the world.
For me, getting my first laptop from my dad when I was graduating high school completely changed my life. From begin able to get online and chat with friends on AOL Instant Messenger to creating my first "beat" on a $50 music program to recording my first albums, marketing those albums, booking shows all over the country and now using it to help others through developing information products – I truly see the power that these machines hold.
The sky is the limit.
And today I want you to think about how you can share the information you know to help others get what they want from life.
In the comments, leave me a quick message about how you can use the things you know to help others and I'll be sure to check them out and lend any advice that I can.
And, if you want to talk about exploring taking that information and turning it into a business, we have a few spots left in our special we are running this month. You can learn more about that by clicking here now.
Talk soon,
Greg "What A Trip" Rollett
P.S. I will post some photos from the shoot this week and will be sharing the documentary and my lil clip in the film as soon as I get it from Nick and his crew. Had a blast going out there and can't wait to show everyone the end result.
---
New Video! Customer Recognition
Wednesday, February 13th, 2013
A few weeks ago during our Celebrity Expert's Marketing Academy, we held a Red Carpet Premiere of 2 movies that Nick Nanton produced and directed.
Before the crowd gathered to get their photos taken on the carpet, I asked Parker to turn on the camera and the mic so I could relay some very important messages that I learned that day while taking a behind the scenes tour of Disney World with the Disney Institute.
The message is all about recognizing people in your business. And not just customers, but recognizing employees as well. This is something we all need to do a better job at.
I talk to fitness entrepreneurs all the time about recognizing clients when they hit milestones in their workouts, or clients after their big event. I do my best to recognize great products from our clients and customers both here and on our Facebook page.
But we can go deeper. Think about this topic today and let me know how you recognize people in your business in the comments below.
-Greg
P.S. That suit and tie is a long ways away from the standard black V-neck and jeans that I rock to the office every day! Sometimes it's nice to get all fancy for your clients as well.
---
The ProductPros Spotlight Is On Craig Koniver
Monday, February 4th, 2013
January is the perfect time to launch a new program that aims to improve someone's life, health or finances.
Think about it…
At the end of the year we traditionally reflect on the previous 12 months and think about all the regrets we had and all the unchecked items on our "we want to do that" list.
This rings especially true when it comes to dieting, losing weight and having more money in our bank account.
And this month I want to talk to you about ProductPros client Dr. Craig Koniver who took full advantage of this opportunity and launched his Break Free, Real Health program in Decenber.
Break Free, Real Health is a monthly membership and community for people looking to live a more natural and healthy lifestyle and are sick of mainstream conventional medicine, over processed food and mainstream media lies.
This is a great angle that plays into the story theme of "us vs. them" and Dr. K can really back up the facts as an actual practicing doctor in North Carolina.
I asked Dr. K why he creates this program after it latched and he had this to say,
"I can only see so many patients in one day and with the large amount of time I like to spend with patients, it becomes difficult to impact that many people. By providing this membership site, I can create an interactive community where members have access to all of the content (videos, audio, action guides, resources) that I create as well as to me personally through the private forum."
When Dr. K launched his program he had already began building his mailing list and had cultivated a tribe of happy patients that see him live in his office. This allowed Dr K to receive both immediate sales and feedback for his program.
When we came in to help Dr K with Break Free, Real Health he already had all the topics, ideas, research and expertise he needed to make an impact on his market. We helped him to decide the business model, the order that the content is delivered, helped with recording, editing and the creation of manuals and action guides that made his content actionable for his members. This is going to get his members to stick longer and become raving fans for Craig and his brand.
Craig had this to say about the ProductPros process,
"Greg has been amazing at helping to turn my ideas into the actual membership site. This includes brainstorming about what the content should be as well as the actual building of the membership site and assistance with the content generation."
Dr K knows his market really well. He knows their fears, their problems and also their aspirations to live healthier and natural. He has turned this into his focus by stating,
"My goals are to be a real health leader. To get people thinking outside the box without having to sell them a product. I want people to know that they can be abundantly healthy by making active food, exercise and thought choices. Health (and life) are truly about what you focus on. And I want my members to retrain themselves to literally focus on their positive health."
You can check out the Break Free, Real Health Membership by heading over to – http://organicmedicinenow.com/courses/launch/ now and watching his sales video.
As you work through the New Year, think about the ways that you can share your expertise with the world to help scale your time, impact more people and leave your mark on the world.
To request your own free product consultation to see how you can turn your information into profits, contact Greg Rollett, the ProductPro, at greg@productprosystems.com or call 800.980.1626 today.
---
Jake Hower Made Me Into A Cartoon
Friday, February 1st, 2013
This week I was featured on the MultiMedia Marketing Show with Jake Hower! The interview was awesome and I encourage you to check it out on iTunes or right on his site by clicking here now.
On his Podcast episode we talked about creating information products, honing in on your idea and your market and then how to find an audience that wants to buy your stuff. The content is great and even better is that he made me into a cartoon!
How cool is that!
Click the image below to listen to the episode now and leave Jake a comment about the content and if you learned anything from my ramblings.
---
Start Your Information Business Today!
Friday, January 25th, 2013
*Watch The Video From The ProductPro, Greg Rollet, Below Now*
Over the past week, we have gone over 3 keys to building a highly successful information business today. A business that helps people to change their lives, their businesses, their health or their relationships and also rewards you financially for dispensing this information.
In the video above I have given you an opportunity to have these 3 elements custom-tailored and delivered to you in an intimate 1-on-1 coaching session.
You see, over the past 2 years I have been closing working on some of the biggest information products with some of the world's leading experts. Experts like Brian Tracy, Michael Gerber and Tom Hopkins. And niche experts in the investing niche, the fitness niche, natural living, business credit, sales training, real estate and countless others.
I know exactly what these markets want and how to reach the fast. And today I want to open my vault of knowledge to you. To build YOU a roadmap to start your own highly profitable information business.
I truly believe that building an information marketing business is the fasest and best path to creating more freedom in your life. From the freedom of breaking away from your corporate life to the freedom of giving you and your family the life you desire.
I wrote this entire funnel while on a plane on the way to Mexico to renovate and build a library and computer center at a children's orphanage in Mexico. The kind of freedom this business allows me to have is phenomenal. The network and people I get to interact with I never would have pictured myself talking to. And the opportunities to grow my personal wealth along with the knowledge I can pass on to others through the things I know and teach has been nothing short of life changing.
Today I want to do the same for you. And I want to do it at the most affordable price I have ever put on this type of session. Nick and Jack might not let me out in public again for doing something this crazy.
But, here's the deal. I love what I do. I love helping people and I want to see you build the lifestyle of your dreams through building an information business.
So today, you can take advantage of this special Information Business Blueprint Session for only 1 payment of $297.
Yea, $297!
For less than $300 you can leverage the 100+ products in 40+ niches that I have helped to create and launch and use it to catapult your own life.
Here's the deal and what you get for your $297:
We will schedule a 45-minute 1-on-1 (not a group) training session on Go2Webinar.
On that meeting we will go through the 3 core elements you need in place to create your information business
We will start by clearly defining your market and showing you exactly how I would build your tribe
I will show you the sites, the tools, the posts and the content you need to create to build a tribe quickly and efficiently
Next we will talk about the core problems that market has and how you can use your knowledge and experience to help that market to solve those problems
I will create your information product framework and tell you exactly what to include in your product to make it the ultimate desire of everyone in your tribe
And finally I will show you exactly how I would market and sell that product from the affiliates I would seek out to the exact traffic sources I would use to the sequence, funnels, copy ideas and product launch strategies that have proven to work for me and my clients time and time again
And I am going to do it all in less than an hour!
I don't want to waste your time that you could be using to build your business.
This is my gift to you. The only thing I want in return is a note from you saying how good the session was and how you have started your own information business that is helping people to change their life and is changing your financial outlook as well.
And one more thing…
If, after our call you decide to work with me and the ProductPros to create your information product, I will apply your $297 towards your product creation package.
How cool is that?
So that's the deal. I don't think I can make it any better for you today. To get started just click the button below, enter your credit card information and then I will personally reach out and schedule our session.
Let's get started!
-Greg
---
Do NOT Create Your Product If You Can't Sell It!
Thursday, January 24th, 2013
So far this week we have talked about some of the most important things you need to have in place in order to be successful running and information marketing business.
We started by talking about building a tribe and having people that are clawing at the bits to get the information stored in your brain. Then we moved onto problem solving.
Today I am going to tell you something that you probably never really thought about.
It's something I learned from mean ol' Dan Kennedy and has stuck in my mind over the past few years as we have been building hundreds of information businesses for our clients.
Here it is:
You are not in the __________ (fill in the blank) business. You are the marketer of a __________(fill in the blank) business.
To put this into context, when I was actively selling products in the music industry, I was not in the music marketing business. I was a marketer who sold music marketing products.
Much like a dentist thinks he is in the dental business, alas he is not. He is in the marketing of dental services business.
Here is the catch – we all know something. We all have a message to share with the world. Problem is, the world doesn't want your message…YET.
You have to put your message into some form of media (sales letter, mail piece, Facebook ad, blog post) and then distribute that media via active sales and marketing. I share all of this to bring you reason #3 why you are not yet ready to create your info product…
3. You Don't Know How To Sell It
Without a compelling sales and marketing message, your great product won't change anyone's life, including your own. If you want to make money in the information marketing business, you need to get good at 1 thing and 1 thing only – marketing.
Marketing drives people to want to work with you, connect with you and learn from you. It creates an emotional connection between you and your prospect. It gives them a reason to pay attention to you.
But most, importantly, without marketing and a sales message to match the marketing, you won't be any closer to achieving your dreams and building your business.
I mentioned above that taking the stories and information in your head is the easy part and I meant it.
In my product creation consultations we spend more time talking about the market, their desires and how you can reach them that with the actual content. I want to make sure you have a viable market that is ready and willing to spend money to solve their problem.
And then you have to create a way to reach them. If you have reason #1 already (building a Tribe), it makes this process easier. Creating rapport with an audience is step #1, but we aren't all afforded that luxury of time. Sometimes we need sales now. And if that's the case, you need to spend every waking minute finding your hungry audience and telling your story so they know that you are the solution for which they seek.
Start looking at ads, sales letters and personalities that do a great job of convincing you to buy their stuff. What makes it so appealing and attracting? How can you model it with your own personality?
What To Do Now!
It's time to get to work. I know, you don't like being told to work. I get it. Working is way tougher that sitting on a beach hitting buttons on your laptop ATM.
You might have heard that you need to work smart and not hard. I disagree.
You need to work hard on the smart things.
The 3 posts I have written this week are the smart things. Tomorrow I will be writing a 4th post in this series. It will give you an opportunity to have a lot of the hard work I have laid out for you to be done by someone who has been there and done that.
And it will be much a more affordable investment than you are thinking.
But today – I want to know HOW you are going to sell your product. Please take a minute and leave a comment below. I am going to be reading and responding to them all to help you build your information business.
Why would I do that?
Because I firmly believe that creating an information based business is the fastest way to create a lifestyle business that changes your life and the lives of others.
So, go and leave a comment here now and look out for my special post tomorrow!
-Greg "Always Be Selling" Rollett
---
Reason #2 To NOT Release An Info Product
Tuesday, January 22nd, 2013
Yesterday we talked about building a tribe, or an audience which you can lead to a better lifestyle or business. It is the first, and most necessary step before creating a product to sell to that audience.
Now, there are ways to avoid this – like buying traffic, placing ads in magazines or doing direct mail. However, the truth is that even in buying traffic you need to lead them and be the expert that is there for them beyond just a product they came to your website that they buy.
Once you have begun to establish your audience, it's time to jump into the 2nd major reason that you are NOT ready to create and release your information product!
#2: You don't solve an actual problem that the market has.
Once you have developed or determined what your skills are and what your story is, you need to apply that to a real problem that your market has. Just because you have a magical 6-step process for leadership doesn't mean that anyone wants it or needs it.
In order for someone to pull out their wallet and their credit card after looking at your sales page, you need to create an emotional reason for them to buy your product now. What itch do they have that you can solve.
We talk a lot in our own products and in our product consultations about Frameworks. For your purposes today, I want you to think about two things: A and B.
A is where you prospect is today and the problem that they currently have.
B is where they want to go after the problem is solved.
Today I want you to focus on the A and the A only.
For example: I don't need a leadership product, because I do not think I have a leadership problem. What I do have is staff that keeps leaving me and I keep having to hire new people.
How can you take that example and solve his problem.
My product helps entrepreneurs to stop the revolving door of hiring employees that don't stick and helps you to become the go-to person that everyone in your market wants to work for so you never have to worry about hiring again!
That's what I am talking about!
What is the problem that your market has and what problem do you solve. Have a definitive solution that your problem delivers.
Make it tangible.
In weight loss, tell me that I will have 6-Pack Abs after going through your product, not just "look better" or experience "some weight loss."
For many this is a difficult thing to think about. We all have great ideas for products, but if that product doesn't solve a tangible need in the market, it is once again just going to sit on the shelf and look great, but not help anyone (including your bank account).
So here's what I want you to do today. I want to know what problem you solve in your market. Go ahead and leave a comment below and I will help you personally to address this second point.
And then, check back in a day or 2, for part 3 to complete the full picture to save you some aggravating times before you release your product.
-Greg "Mr Go Out And Solve A Problem" Rollett
---
3 Reasons To NOT Create Your Product Right Now
Monday, January 21st, 2013
This might be a weird subject to talk about for an information publishing company, but it is a subject that I need to address before you get in too deep.
Over the past 2 weeks I have been talking with countless entrepreneurs and experts about their ideas to create their next blockbuster information product or online business.
Nearly every idea was great. It fused experiences with stories, education with thorough research and even complete 360 degree transformations for themselves and their clients.
That part of the information business is the side that is fun and exciting to talk about. We all have stories and information that can help people change their lives. Stories that need to be heard. Just like this message you are reading right now.
But here is the harsh trust and the unglamorous side – no one is sitting there, waiting for your information. In fact, I bet that before you opened this email you were not refreshing your email account waiting for Greg to send you a message.
It's just not going to happen. Even after you have given me permission to send you messages like this.
But, here is the key difference that leads into reason #1:
1. You do not have an active audience!
Look, I have seen many information businesses work with teeny, tiny lists – less than 100 people on them. But they were active and engaged. They were in a dire state of need and the personality driving that audience had an intimate connection with them.
The unfortunate fact is that many aspiring information marketers want to save the world without have a group in the world to save.
When I have something worth saying, I can turn to an email list with thousands of readers, type out some sentences and hit send.
But they didn't just fall out of the sky. You didn't just stumble onto this list. There was purpose and intent to get you here and it's my job to keep you here.
If you do not currently have an active audience, whether it's email subscribers, current patients or customers, blog readers, or heck, for the sake of this conversation, engaging Facebook fans – you need to start there.
Read the short, but inspiring book by Seth Godin called Tribes. You need to build a Tribe before you can lead a Tribe. Again, this Tribe does't need to be 10,000 strong. You can lead of group of 20.
Now, the other end of this is if you have the pockets to spend on direct marketing. This means that you are going to build your Tribe by actively spending money to acquire that Tribe. Putting ads on Google or Facebook, buying space in niche magazines, finding high-level affiliates to promote your product or getting on stages to deliver a sales presentation to.
No matter how you skin the cat, you need to build an active audience in order to make information marketing and publishing work. Without it, you'll have a fancy looking package sitting on your shelves.
Today I want you to think about who you are going to create your product for and how you are going to go about finding them. Then I want you to tell me all about it!
Leave a comment below telling me how you are going to find your audience and build your tribe. I will be reading them all and commenting to help you get started.
Tomorrow, I will be sharing my second reason that you NOT be creating your product yet.
In the meantime, leave me a comment about reason #1 and what you are doing about it!
Talk soon,
Greg
---
End Of The Year Wrap Up – Product Podcasts
Monday, December 31st, 2012
This year I was very fortunate to have been interviewed by some amazing entrepreneurs to talk about products, information marketing and growing an information business.
As we start to wind down to the last days of the year, I wanted to share 4 of my favorites with you in case you missed them, or never knew about them. Most are available for direct download, or through iTunes (and cost you nothing).
Most of them cover more than most gurus put together in an entire course and give specific examples and case studies of creating products and making a living in the information marketing business.
Enjoy and let me know what you think of the episodes and interviews in the comments below:
Mixergy Interview with Andrew Warner – Have An Info Product, Here's What's Next
Foolish Adventure with Tim Conley – From Rapper To Info Product Entrpereneur
Optimized Man Podcast with Derek Johanson – Optimal Information Publishing
The Great Business Podcast with Ralph Quintero – All About Info Products
-Greg
P.S. If you would like to schedule a no-obligation consultation on how I can help you create, develop and produce your next information or training program, watch this video and schedule your appointment today.
Photo courtesy of Rusty Sheriff
---
Creating Stories About Your Product Journey
Friday, December 21st, 2012
I found this video today from Mind Valley and Chris Haddad about how we finds the story behind the products that can be used in the sales process.
People only care so much about your product, and it's usually less than you think. The thing that they really care about is the story and the journey that you took to get to where you are.
In a recent Dan Kennedy program I was going through he beat it through the head of the attendees that marketing is never about the product. People don't want to buy another weight loss product. They want to buy the aspiration that they have to lose weight.
The reason people keep buying books, products and program is basic human nature. We want to improve. We are optimistic people at heart. Think about the guy (or gal) that gets remarried 2, 3 or 4 times in their life. They are optimistic that the new spouse is "the one."
Think about all the people playing the lottery or Power Ball every week.
Now think about the story that you have to tell about your product. How did you get there? What aspirations did you have to get to the successful place that you are now? That story will help you connect to and relate to your audience and thus sell more of your products.
Enjoy the quick video and let me know what story you can tell about your product below.
---
Need Help Creating Your Info Product?
Wednesday, December 19th, 2012
Below is a new video from Greg Rollett, the ProductPro that showcases some of the new products and programs that we have been working on over the past few months. These products are from varrying niches from fitness to financial advice, sales training to a post surgery recovery program. Just goes to show that the information marketing space is much bigger than the "get rich online" marketplace.
If you would like to talk to Greg about creating your new information product, please click here to schedule a free, no obligation, consultation today.
---
Selling Your Info Products During The Holidays
Tuesday, December 18th, 2012
Don't Waste The Next 2 Weeks!
Many people are getting ready to turn off and unplug for the next 2 weeks. I know that I am looking forward to some family time and a few hours away from the email and texts that seem to come through nonstop.
But, before you get ready to shut off, I wanted to inspire you to use your information, your media and your products to do the work for you over the next 2 weeks.
You se, just because you are thinking about shutting off, doesn't mean that your market is. They are still looking for answers and information and might even have some extra free time to be browsing around.
What about those that get shiny new iPads or Google tablets under their Christmas tree? Do you think they are going to be playing on those devices nonstop for the next week or 2?
You bet they are.
And what are they doing on those devices (besides playing Words With Friends!)?
They are setting up and checking their email.
They are looking for deals and talking on social media with friends.
They are browsing the web, clicking on links and yes, even making purchases.
This means that it is a prime opportunity for you to be marketing to them with your products.
And the great part?
You can spend the rest of the week setting up some auto responders and email sequences to do all the hard work for you.
Here is exactly what you need to do:
Grab some of the products that you created this year and put together a special bundle.
Create a nice discount for that bundle and give it a cool name – something like the holiday buster sale or something!
Set up a series of 3-5 emails promoting the sale that are sent automatically over the next 2 weeks.
Drive them to a special sales page, with a special discount and a firm deadline to take action.
Also pre-schedule some Tweets and Facebook posts if you have those set up as well.
Let the sales come in over the holidays.
And if you are missing the products to put something together, try some creative approaches.
Schedule a getting started webinar series that starts the first week of the New Year and give them a discount by signing up in advanced. Offer them a bonus report or the recordings of the event for taking action
Create a live event and give an early bird gets the best seats in the house special.
Schedule a call with me to see how I can make your product for you and start advertising this new product now with early access to those that take part in the sale!
No matter how you look at it, you need to take advantage of the holiday season. People are in spending mode and ready to take action if you solve a problem that they have.
With that in mind, I am extending the sale on InfoProductPro through this week. I am doing this for 2 reasons.
Because I am taking my own advice. Bundle up your best stuff, give a killer discount and help those that need the information.
Because I don't want you to have any excuses for not knowing how to create and launch your own information product or information business.
Click here to grab InfoProductPro for 67% off now.
I hope you are getting ready for a great holiday season with your family and loved ones. It's been great year helping so many of you with your information businesses and I look forward to continuing to do so in the New Year!
Happy holidays,
Greg Rollett, the ProductPro
P.S. Feel free to reach out if you are need help putting together your product. We have 3 spaces available in January for custom product creation! You could be next!!
---
Friday, June 1st, 2012
This is the ultimate curse when getting started in business. I'll get to it later. I'll run that marketing campaign later. I'll shoot that video later. I'll create that info product later.
What are you doing right now that is stopping you from doing it RIGHT NOW?
The answer might be more daunting than you think. We are all guilty of procrastinating. A little Facebook here and reading some blogs there (like you might be doing now). This never hurt anyone did it?
My guess is that many of the successful entrepreneurs that you envy, the Branson's, the Jobs's, the Tony Robbins's and the like are NOT doing it. They are busy working. Making things happen in their business.
Creating, networking, shaking hands and kissing babies.
Doing whatever it takes to get their business off the ground.
I speak to far too many people who want the lifestyle (link to Tuesday's post) and spend hours daydreaming about it, but who keep putting it off. I hear it all the time.
"Let's follow up at the top of next month"
"Sounds great, but we are busy right now, things will cool off soon and then we can start building this business that I'd rather be building"
Excuses, maybe. Sales objections? Possibly.
But more likely they are scared of the unknown. Of something new. Of potentially failing at building the life they truly want. Of helping more people. Of changing more lives. Of the work and responsibility that comes with affecting more people.
I keep reading multiple versions of this same quote online nearly once-a-day lately (paraphrased below)
"If you want a life that others don't, you have to do the things that others can't."
There are variations of that quote, but essentially it goes back to what you want from life and what things you are willing to do to get there. What fires you up in the morning. It sure isn't any more damn TPS Reports. Or dealing with problem clients. Or putting out fires. Or whatever else gives you a reason to daydream about better things, better days, the vacation time coming up or the business that one day will be.
Today I want to say, STOP.
Stop putting it off. Stop making excuses. Stop waiting for the perfect time.
My wife and I have been joking about having kids for the past 3 years now, waiting for the perfect time. There never is one.
We'd try to find a 9-12 month windows with the least amount of big plans, events, etc in them, but it never opened up and honestly it never will. The sky will never open and shine down and say today is the day.
So we went for it. It's been an amazing journey so far (you can see our announcement video here) and while it's scary moving into the future, we took the leap.
When I left Corporate America to start selling products online, nearly everyone thought I was crazy. They still think I'm crazy but can't deny the amazing things I've been able to generate for myself and my family.
It starts with a decision. A decision to do it today. Let's get stared. It's not easy, but it is rewarding. And it's a journey that is better and more fun than not going on the journey at all.
What are you going to do today? Let me know in the comments.
photo courtesy of Montauk Beach
---
Clients Taking Action With Facebook Ads
Thursday, May 31st, 2012
I just love the feeling of clients taking action. Today while browsing through Facebook (it's a time management technique), I came across an ad for a product that looked really familiar.
The ad was for a product that I created with Paul Streitz and Brian Tracy called "Shock And Awe Success."
You can see the image below:
In the ad, Paul is sending the viewer to a landing page built inside of Facebook, where they can signup for a free video that was shot on the set of the Brian Tracy Show.
Check out the Facebook landing page below:
Paul then has an immediate upsell into the program with Brian. This is a great marketing strategy and should be a good way for Paul to build his list and sell some products in the process.
To see Paul's product and take advantage of his launch price for Shock And Awe Success, head on over to the sales page now.
Great work Paul!
-Greg
P.S. If you would like to co-author a product with Brian Tracy, you can learn more and apply today by watching this quick video.
---
Life And Business Lessons From 100 Fitness Entrepreneurs
Tuesday, May 29th, 2012
I am currently 30,000 feet in the air coming back from my first trip across the pond. I was in London and Birmingham in the UK speaking to 100 of the world's top fitness trainers at the Fitness Entrepreneur Bootcamp.
(on stage at Jon LeToc's #FEB2012 in Birmingham, UK)
The event was incredible and I was fortunate to be able to help them create a product strategy to bring in new income to their businesses and help them stop trading time for money. A very important concept, especially for this crowd, where empty time slots means that money is not coming into the business.
One of the overarching themes from this weekend was that many of the speakers who were personal trainers and now were teachers and information marketers were very vocal about the fact that you have to be in a business where everyday you wake up with a fire in your eyes.
And it can't just be about the money. The money is just there to support the lifestyle you wish to live.
It's a concept I've talked about before in blog posts and articles, especially to my music crowd. Figure out your number and work backwards.
What is your cost of living? Housing? Cars? Food? Lifestyle? Travel?
Find that number. I can almost guarantee that it is lower than you are thinking.
Once you have that number, it's time to work backwards. How many clients do you really need to have to live your ideal lifestyle? How many products do you need to sell?
Do you need to raise your prices? Do you need to add more products? More services?
Design What You Want From Life
In the past 3 months I have been on planes, in cars, buses, trains, boats, hotels, spare bedrooms, bed and breakfasts and more traveling both for business and for fun. That's a part of the lifestyle that I really wanted for myself.
(the lovely wife and I on a recent boat trip in Islamorada)
I love being on or near a beach or in a new city. Discovering new foods, cultures and people. Thus the business I am creating and growing allows for this. It allows for the travel and creates the revenue to explore and grow.
It may not be what you want, but deep down you have things that make you tick, that make you, well, you.
Let's try and find that today. Bring out your desires and think about how you can get there.
If you are trading time for dollars. how can you break out of that, or begin to turn the tide to less hours for dollars. Open up the freedom in your life. You are an expert and can leverage the things you know in ways that people will truly value.
Maybe that is through coaching, through information products, speaking or some other kind of educational marketing opportunity.
The 100x Value Multiplier
(the expert panel at #FEB2012 at Aston University in Birmingham UK)
Find the value in the things that you do. During one of the nights at the event, we held a round-table discussion with all of the speakers and one of the attendees asked what can one truly make in a year as a personal trainer. Dax Moy, an amazing trainer and marketer said how about $17,000 a week. That is the price he gets paid by his private clients to travel the world and train them for a week at a time.
Is his training 100x better than the trainer charing $17/hour? Maybe, maybe not. But he understand the value that he brings, the lifestyle that he wants and has positioned himself to get those kinds of numbers. That is putting everything I mentioned in this article into action.
Finding the value you want to provide to the world, creating a business that matches that value along with your lifestyle wishes and then going out and doing everything in your power to get it.
If information products or educational marketing is something you are thinking about to get you there, let's talk. Click here to fill out a free, consultation request.
Let me know what your teams and goals are in the comments below.
---
Stephen Lomsdalen's The 3 Wall Street Myths Now On Amazon
Monday, May 21st, 2012
ProductPros client Stephen Lomsdalen has just released his new book, The 3 Wall Street Myths That Could Ruin Your Retirement Dreams on Amazon.com.
We have been working together over the past few months to package this valuable information and we are both excited to see it being available to help those about to retire.
In the book, Stephen covers some very crucial topics, myths and misconceptions about investing today that can lead to a financial stress during the years where you should be spending your time doing what you want to do, after working so hard for so long.
You can pick up a copy today on Amazon.com for only $19.95 and it will be shipped directly to your home to read whenever you are ready for the information.
Congrats Stephen on the launch!
-Greg and the ProductPros Team
---
3 Things Learned From Interviewing A Legend
Friday, May 18th, 2012
Today I wanted to share a quick video on three big lessons that I learned from interviewing a legend in our industry, Brian Tracy.
In the video I share 3 big keys that I took from our 90 minutes in front of a camera together and share how you can apply them into your business, life or other opportunities that present themselves to you.
In the video I mention two opportunities to become involved with that interview and product that we created with Brian.
1. Co-Create This Product With Brian And I
After finishing the project we wanted to involve some of our best clients and customers in this process and allow them to see how powerful this project can be for their own business. The result is an opportunity to co-create a product with the legendary Brian Tracy. This is a once-in-a-lifetime opportunity and the best part is that we will be doing most of the work for you!
We will be working together to create 3 brand new training modules that compliment the things that Brian taught in his 3 modules. I will work with you to create this framework, the outline and the interview questions. Then we will record everything together. Our team at the ProductPros will edit everything, and package it so that you have a complete 6-module program starring you and Brian.
If you are interested in learning more about this invite-only opportunity, please send an email to greg@productprosystems.com right away to schedule a no obligation consultation to see how you can use this product in your business.
A sample product from this series can be see on Thom Garlock's website here, called The Ultimate Guide To Creating Wealth In Your Self-Directed Retirement Plan.
Again, please send an email to greg@productprosystems.com to learn more about this opportunity.
2. Generational Business Success
After we finished the interview, we packaged everything together and put together a physical version of the product for you to purchase. It is about 80 minutes of footage on business and success from one generation to another. From the marketing and the message, technology to economy, this product is a wealth of information for any entrepreneur, expert or small business owner looking to improve their business and their personal success today.
Click here to learn more about the product, and get one shipped to your home today.
---
Kentucky Derby With Dan Kennedy
Wednesday, May 9th, 2012
Just got back into Orlando after spending 5 great days in Cincinnati, OH and Louisville, KY with some of our great clients as part of the Dicks + Nanton Celebrity Mastermind Weekend.
After 2 days in the classroom, we kicked off our shoes (well, actually we got pretty jazzed up) and spent Satursday at the 138th running of the Kentucky Derby.
It was a blast and there were some great stories and a few bets going around during the day. I also got to spend some time with special guest Dan Kennedy, a legend in the direct response and information marketing business. He shared some game changing thoughts with myself and the group and I will be highlighting them in the next issue of the Info Society Newsletter (you can subscribe here if you are not currently a member).
One of the biggest things I have learned from Dan is that if you want something that most people don't have, you have to do what most others won't do. It is so true and it starts with your midset and the choices you make as an entrepreneur, down to your products, services and marketing.
It is something we are getting excited about here at the ProductPros as we explore a new chapter in our own business this year.
That means great things for you guys!
In the meantime, hope you like the pictures so far and be sure to check out the ProductPros on Facebook for more images and insight from the Derby.
-Greg
P.S. Tomorrow night (Wednesday, May 9th) I am hosting a live training webinar about the power of Celebrity Association and how you can co-create a product with a good friend of mine, Brian Tracy.
You can see a quick little video and register for the webinar here.
---
Affiliate Summit Info Product Webinar Replay
Monday, March 5th, 2012
Last week I was asked to deliver a presentation for my friends at Affiliate Summit on creating highly valuable and financially rewarding information products.
This was a great presentation that shares how people in the Affiliate Marketing industry can leverage info products in their business, both to sell and to use as education for their affiliates, customers or blog readers.
The webinar is a bit long, but is jam packed with actionable information that you can take right now and apply to your business.
After you watch the video, let me know what other questions that you have about creating information products for your business. I will be responding to everyone to help you out this week.
-Greg
P.S. If you are not already, please subscribe to the ProductPros newsletter. You will be getting some very valuable emails from me this week about a secret online society. If you are intrigued, then signup and look for that email later in the week.
---
Can Homer Simpson Can Help You Define Your Ideal Product Customer?
Wednesday, February 22nd, 2012
Last week while walking to lunch in Hollywood for a Grammy Mastermind weekend, I ran across this ginormous tent promoting the Simpsons 500th episode.
For anyone that has seen me speak or listened to a webinar or teleseminar, I always talk about the Simpsons. I talk about how when I first started creating products I could tell you more about the characters on the Simpsons that I could about my customers.
How backwards is that?
Very! Your customers are the ones that keep the roof over your hear, they pay your car payment every month and keep food on the table for you, your family and the families of your employees.
So why did I know more about Homer Simpson that I did my own customers? Because I never spent the time to really think and learn about them.
While walking by the text, I asked a good friend, Bill Benner to grab my little camera so I could shoot a video that will help you avoid the same mistakes that I made when I frist started.
The audio in the video isn't amazing, there was a large crowd and some background noise, but the message is loud and clear. It's just longer than 2 minutes long and really can be the driving factor that helps you sell more products this year.
I know that is has been for me. Enjoy.
Now that you have watched the video, you saw that I shared a very quick exercise that you need to complete today. It doesn't take a long time, in fact you can do it in 5 minutes or so. But these 5 minutes help you create better products, market your products more effectively and help to change people's lives and businesses through your products and services.
Once you know "who" you are creating your products for, the message becomes more clear and you have a greater shot of delivering value to them (which makes them happy to give you money to help them fix their problems).
Your Homer Simpson Exercise
1. Take out a sheet of paper and draw a line right down the middle, vertically.
2. On the top left, right the name of your favorite tv character. It can be Homer Simpson, or it can be one of the Desperate Housewives or even a reality star like Snooki or Randy Jackson.
3. Once you have your character listed, write down 5 characteristics about that person that could help you market to them.
As an example, here is what I would say about Homer Simpson:
a. He works at the powerplant and his boss is Mr. Burns
b. He loves Duff Beer
c. He has 3 kids – Bart, Maggie and Lisa
d. He is married to Marge
e. He loves white t-shirts and blue pants
All 5 of those characteristics tell me something about Homer and his needs, likes and interests. It would also help me find avenues to market to him. If Homer likes my product I bet others at the power plant will. Can I create a campaign to the workers of the power plant? Maybe Facebook or LinkedIn ads?
Are there certain types of products that a married parent of 3 kids would need? Oh yea! I think you get the point here.
4. On the top right of the page, write down the name of your ideal customer. If he/she doesn't have a name, give them one.
5. Write down 5 characteristics of your ideal customer that would help you market to them, understand them and see their wants and desired.
As an example, here is how I did this exercise in my info product music business.
a. He just graduated college and has huge debt and low spending budget
b. He plays in dive bars, mixture between original and covers
c. He spends more money at the bar than he makes playing the shows
d. He is a singer/songwriter with aspirations to get his songs licensed on tv shows and movies
e. He wears a backward hat, a t-shirt with a silly slogan and khaki shorts.
As you can see, once you have this picture, it makes the product creation and marketing process much easier.
So, today, I want you to take action and complete this exercise.
And here is what I am going to do for you. When you complete this exercise, email it over to me (greg@productprosystems.com) and I'll grade it for you. I'll tell you if you have your market figured out or if you need to look harder to find your ideal customer.
Get to work and leave any comments or questions below! Here's to creating highly valuable and financially rewarding products!
-Greg
P.S. At the Simpsons tent, there was a challenge going on between 100 super Simpsons fans. They had to watch all 500 episodes in a row with no breaks. Wow! 4 days of watching the Simpsons.
I consider myself a fan, but not that big of a fan.
---
Wednesday, February 15th, 2012
The ProductPros were live from the 2012 Grammy Awards this past weekend and before the show started I grabbed out my iPhone and shot a quick message for everyone.
Before the Grammy's began, we spent 2 intense days Masterminding with 20 of the brightest entrepreneurs I have ever surrounded myself with. I have 10+ pages of handwritten notes and spent the entire day on Tuesday implementing, implementing and implementing.
That's really good news for you guys as the posts will be flowing to help you build an information marketing business of your own.
Look for some new videos next week that we shot in Hollywood with some exercises to kick start your product and business creation.
Till next time, thanks for being a subscriber.
---
The Product Creation Opportunity Right In Front Of You
Thursday, February 2nd, 2012
Last night I spent the evening with 45 of Orlando's top Affiliate Marketers at the January Affiliate Summit Meetup. In between some tacos and cervezas I got to spend some time talking with some of the newer marketers and the problems that they were having in making money online.
For many new online marketers, when they are getting started they have a tough time getting traffic. That was not the case with this crowd! They had built passionate communities with thousands of visitors clinging on every word.
They were writing amazing blog posts and had engaged communities through their Facebook Fan Pages. They had what nearly everyone wants and weren't even trying all that hard – just writing and talking about things they were truly passionate about.
What they were having issues with was making money off of their traffic. They were trying AdSense and banner ads from ad networks to no luck.
Here is why they weren't getting any results.
The people that came to their sites, commented on their posts and joined their communities wanted to hear from the writer, not from a random ad that was served based on keywords on the page. There was no connection to the ads, thus no one clicked on them.
When I finally got a chance to speak with them, I asked about their audience and what they loved doing. They said that they thought their audience was stingy and didn't want to pull out their wallets. I reassured them this wasn't the case. The case was that they were putting the wrong items in those banner places.
Their readers really want – MORE OF THEM!
The formula is simple, people buy people and in the case of these bloggers, they are the experts, the gurus, the voice that people listen to. That is what their market wants to buy. So instead of throwing up AdSense and hoping to get a few clicks and a small check every month, they should be focusing on building a product that their readers care about. Something that moves them. Something that involves their personality and the solving of a problem.
The answer to monetization was right in front of their eyes. They just couldn't see it.
If you are starting to build a community of passionate people, you need to put yourself out in the open and give more of yourself to your market. You do this through video courses, audio programs, blog posts, newsletters, coaching groups, live calls, webinars and anything else that gives your community more access to you.
They may not want to buy the random widget that an ad service places on your site, but they will buy you. Every time. Without fail.
What other advice would you give to a group that has readers but no monetization strategy? Let us know in the comments below.
-Greg
---
The Business You Are Really In
Tuesday, January 31st, 2012
This past week, the Celebrity Branding Agency hosted 25 top entrepreneurs from around the country to film a new season of America's Premiere Experts. I always love going to these events to see and meet the ambitious entrepreneurs that go through the program. The vast backgrounds, success stories and lifestyles always make for great bar conversations.
At these events, everyone is trying to become the Celebrity Expert in their niche or industry and are looking to use big media, marketing and PR strategies to get there. When I got to talk to them this weekend, I wanted to give them some high level actionable content on how to create "valuable information."
During the talk, I got into why people, customers, clients and prospects like experts, or gurus or niche celebrities.
The reason: we solve problems.
The person who is the expert is the one who people come to when they have a problem and need a resource, a product, a service, an answer or some kind of solution to get rid of the pain they are having in their life.
The expert is the person who is the most valuable person that is known to have, or provide that solution.
At the end of that day, that is the business you are in. You are in the problem solving business. Dog trainers solve dog behavior problems. Consultants and coaches solve business problems. Realtors solve the "I need to sell my home fast" problem. Doctors solve the "what is that bump" problem.
But being the best at solving the problem isn't your only role in business. Marketing the fact that you are the best solution is the other vital step. You need chops and you need to market those chops. Combine the two and that is your key to being more successful in your business.
As an information publisher, or an info product creator or an educational provider, your goal is no different. Your job is to create products that solve problems, position your program as the expert solution and then market it to any and everyone that has that problem.
So as you think about your next product, think about why someone would call you the expert. Thing about the core problem that you solve. Then go about building your framework and recording your videos or audios.
Remember – you are in the business of problem solving through information. Don't forget it.
What problem do you solve? Leave your answer in the comments below.
---
Talking Products On Optimized Man Podcast
Friday, January 27th, 2012
Today Greg was featured on the Optimized Man Podcast talking about products and information publishing. The show is hosted by Derek Jonanson from LiveUncomfortably.com.
In the episode, Greg gave some great advice on:
A 4-step webinar system (that's seriously easy to use) that can help you get a product up and onto the market relatively fast.
The mechanics of why info products are great from producing 'passive income'. (And even if it's not passive (because nothing truly is), it's still a great way to free yourself from a location dependent job).
The ideal info products to go after and how to narrow a niche so you can dominate.
And a ton more!
You can listen to or download the full episode here.
After you listen, head over to the ProductPros Facebook Page and let us know one thing that you learned from the episode.
---
Outsourcing Your Info Product Cover Design
Tuesday, January 24th, 2012
Today I wanted to share some notes for having your information product cover designed by a freelance graphic designer.
Currently I outsource some of my design to 2 talented designers in Europe and have had fascinating results. But it wasn't always so peachy and perfect.
Actually the first info product cover I had designed was a nightmare. I didn't know what I was doing and I didn't have a good direction to send to the designer I was working with.
As you can see in the image below in a DVD I released called the 7 Job Seeker Secrets, it was not my best work.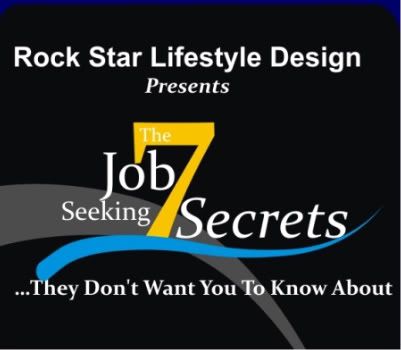 But boy did I learn a lot from that experience and from the hundreds of others over the past 4 years working with freelancers, outsourcers and companies to help develop great looking information products.
The InfoProductPro Design Process
I am currently working on setting up a new internal product here called InfoProductPro and I wanted to create visuals around the product that would really make it pop in the marketplace. I wanted people to see it, remember it and recall it.
I had some ideas for the look and feel and also knew I wanted the colors to fit into the branding of the ProductPros.
As you can see from the Manual Cover, I think we did a good job of building out a look and feel that we can be proud of and get ready to promote into the marketplace.
What I want to do know is show you some of the exact steps and tips to getting a great outsourced design back from an overseas designer and some of the lessons that I have learned along the way.
Directions For Your Designer
The most important factor in getting your info product graphics back with something that you love is in the directions that you give. When I created the 7 Job Seeker Secrets I put too much trust into my designer's skills and ability to create.
Ultimately this was a bad decision and resulted in a DVD cover that I didn't love and neither did the market.
Below is an email breakdown of exactly what I sent my designer, so you can copy some of the strategy that was involved for your own info product graphics. Notice some of the details and instructions that are given, as well as the examples and samples that I provided so they knew exactly what I was looking for.
Email Instructions For Designer
Designer name,

Here is the next project that I have for you. I am putting together a program called "Info ProductPro" and need a cover graphic and a header graphic.

I want it to mimic something like these 3 links:

The header on this link – http://www.expertsacademy.com/
The products on this link – http://imageshack.us/photo/my-images/259/expertsacademy.png/sr=1
The logo on this link – http://expertsacademyblog.com/wp-content/uploads/2010/09/ExpertsAcademyLogo2.jpg

I would like it to say:

Title: Info ProductPro
Subtitle: Your Guide To Creating Highly Valuable And Financially Rewarding Information Products

From the links that I sent you:

Where it says Experts Academy, put Info ProductPro
Where he has the tagline, use the one I provided
Where he has the silhouettes of the 2 people, replace the left one with a laptop and the right one with a camera or microphone or something

Other notes:

Please use the color scheme and theme from the website – http://productprosystems.com
At the top in text, please write – Best-Selling Author And ProductPro Greg Rollett Presents
At the bottom, please put a ribbon or bar or something with Module 1 on it (something that can easily be changed to Module 2, Module 3, etc)
This will be for web only, so don't need print ready files.
For the header, I would like it to be 977 x 150 with that logo thing in the middle
I am attaching some of our logos, etc as well.

Let me know if you need any more info on this.

Thanks,

Greg
Next Steps Working With Your Designer
Now, the first designs that came back from my designer were close, but here is where you also need to provide critical feedback and instruction on where you would like it to go.
Here are the 3 files samples that were sent to me for my info product.
Sample 1: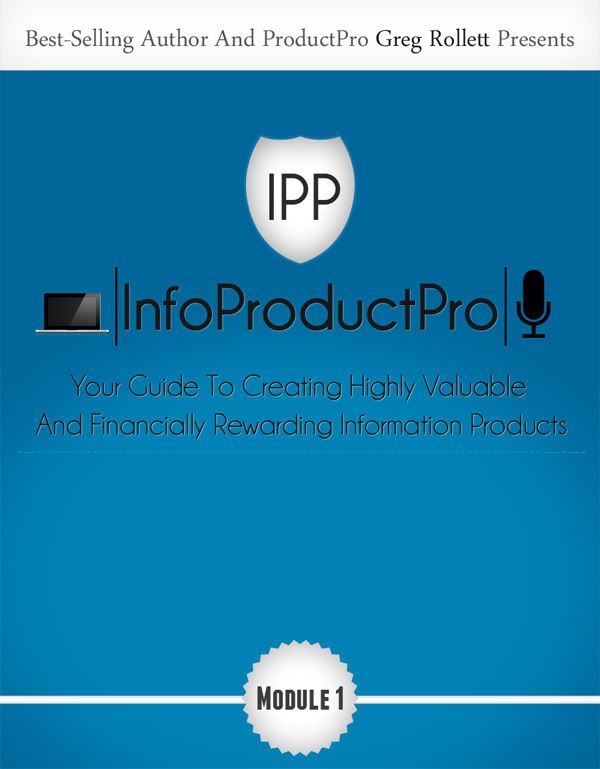 Sample 2:
Sample 3: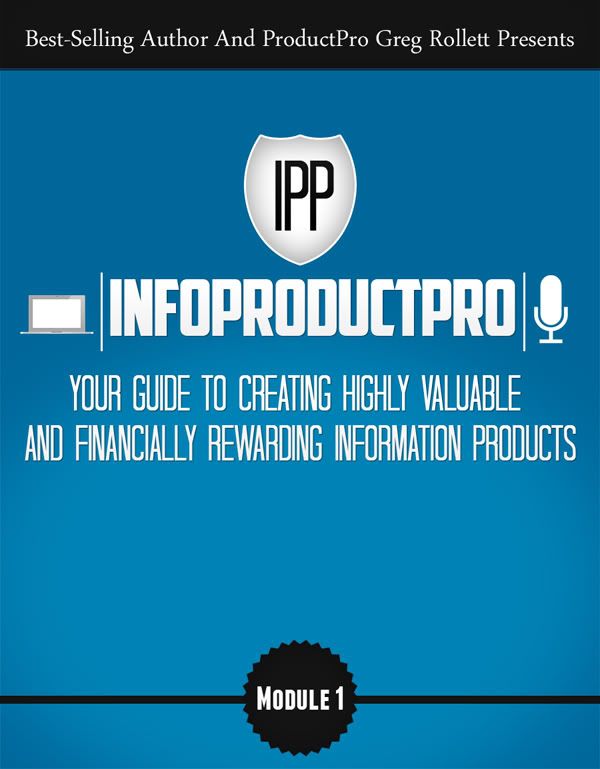 These look pretty good, but I am not super fond of the shield, so here is the email I sent back to the designer with feedback and next steps (note: I already have rapport with this designer. When starting out you will want to provide more detail in the feedback email).
Hi Designer Name,

I love #3.

Here is something that I want to try – can you take the shield – remove the IPP, make bigger and put behind the logo/text?

Love the direction! Great work.
The Final Info Product Cover Graphic
And after that email, I received what you saw at the top of the email which will act as the basis for the entire Info Product Design.
We later created a logo from the center graphic and INFOPRODUCTPRO text area, a header for our website, DVD cases for the videos and an Action Guide cover.
But you will have to wait a little bit to see those. Join the mailing list if you want early notification about this product.
Some Final Tips For Outsourcing Your Info Product Design
We now have 2 great designers that work with us and our clients to create great artwork. But we didn't find them overnight. We looked and looked and interviewed and tested until we found something that we ultimately thought would best represent the ProductPros.
So the first piece of advice is to take your time. I am beyond guilty of this as I always want everything now, now, now. However, finding a great design is always better than finding a quick design.
We use oDesk to post jobs, interview and pay our freelance team. It's a great service that I will write more in-depth on in the future. When looking through applicants on oDesk I would look for someone that has experience working with your type of business, understands the needs and demands, understands the colors, the looks, the fonts and other small detail that can make or break the look.
Lastly, the best product cover designs are going to be the ones where you give the most direction. Always look for sample covers and graphics, give color palettes and let them know exactly what you want. Do not leave it up to their imagination until after you have built up rapport with them and they have shown that they can product quality work time and time again.
What Questions Do You Have About Product Cover Design?
Leave your questions and comments below so we can help you design your best product and begin helping more and more people in your market live the life they desire.
Greg Rollett, the ProductPro
---
Thursday, September 8th, 2011
In this weeks ProductPro Video Blog I wanted to talk about potential. Potential, especially in the information world is extremely important. For every big box, or home study course or membership site out there, the user or the customer has potential. This potential is the same as everyone who gets the program.
In the video below I share how you can learn from this potential and tap into it to get explosive results for yourself.
And then I want you to think about your customers. When they buy your products they all have that same potential to use your information and education to improve their lives or their businesses as well. This is really powerful stuff and something that we will continue to build on here at the ProductPros, both to help you tap into your own potential and to harness the power of your new subscriber or customer's potential.
Let me know what you think of the video in the comments below.
-Greg
P.S. My new book, The New Masters Of Online Marketing is now available on Amazon.com and features Nick Nanton, JW Dicks, Lindsay Dicks as well as some of my Internet Marketing friends Cheryl Campbell, Brian Horn, Ben Glass and Brian Evans. Go grab your copy now at Amazon.com.
And let me know what you think about this video, the book or how we can help create your own custom product by sending me an email to greg@productprosystems.com.
---
Product Spotlight: Unboxing David Schwab
Wednesday, August 31st, 2011
Today I have a really exciting video for you. For me, getting boxes from the printer for new client products reminds me of Tuesdays, when I used to go into the local record stores (Park Ave CD's in Winter Park, FL was my favorite spot) and buy the newest releases from my favorite artists.
Then I would get in the car and rip the packaging open and put it in my CD player right away with the windows down.
Today, I am walking you through a brand new product we made for David Schwab, Effective Communication For Ultimate Practice Growth. It was a great product to make with David and I know it is going to help out the Dental Practices that he works with.
Enjoy the video below and let me know in the comments any of your favorite unboxing memories (whether it was music, movies or even Christmas morning).
---
The ProductPros Live In Washington DC
Sunday, August 28th, 2011
Talk about timing. Between an earthquake and a hurricane, who thought Washington DC was a big time weather threat. Luckily, we made it into and out of DC before any of the crazy weather and our trip couldn't have been better.
We had a great time entertaining 20 entrepreneurs from all over the country with the Celebrity Branding Agency and I even got to work both behind and in front of the camera over the week. Check out some pics below and as soon as I get the footage you will be the first to check it out.
Learn more about the guaranteed media opportunities from the Celebrity Branding Agency.
---