Today I wanted to share some notes for having your information product cover designed by a freelance graphic designer.
Currently I outsource some of my design to 2 talented designers in Europe and have had fascinating results. But it wasn't always so peachy and perfect.
Actually the first info product cover I had designed was a nightmare. I didn't know what I was doing and I didn't have a good direction to send to the designer I was working with.
As you can see in the image below in a DVD I released called the 7 Job Seeker Secrets, it was not my best work.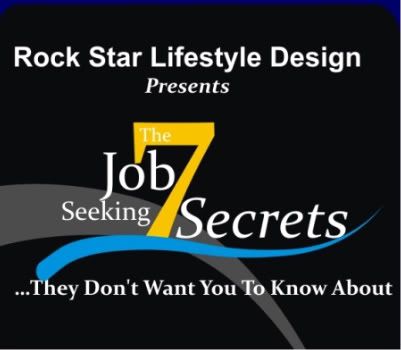 But boy did I learn a lot from that experience and from the hundreds of others over the past 4 years working with freelancers, outsourcers and companies to help develop great looking information products.
The InfoProductPro Design Process
I am currently working on setting up a new internal product here called InfoProductPro and I wanted to create visuals around the product that would really make it pop in the marketplace. I wanted people to see it, remember it and recall it.
I had some ideas for the look and feel and also knew I wanted the colors to fit into the branding of the ProductPros.
As you can see from the Manual Cover, I think we did a good job of building out a look and feel that we can be proud of and get ready to promote into the marketplace.
What I want to do know is show you some of the exact steps and tips to getting a great outsourced design back from an overseas designer and some of the lessons that I have learned along the way.
Directions For Your Designer
The most important factor in getting your info product graphics back with something that you love is in the directions that you give. When I created the 7 Job Seeker Secrets I put too much trust into my designer's skills and ability to create.
Ultimately this was a bad decision and resulted in a DVD cover that I didn't love and neither did the market.
Below is an email breakdown of exactly what I sent my designer, so you can copy some of the strategy that was involved for your own info product graphics. Notice some of the details and instructions that are given, as well as the examples and samples that I provided so they knew exactly what I was looking for.
Email Instructions For Designer
Designer name,

Here is the next project that I have for you. I am putting together a program called "Info ProductPro" and need a cover graphic and a header graphic.

I want it to mimic something like these 3 links:

The header on this link – http://www.expertsacademy.com/
The products on this link – http://imageshack.us/photo/my-images/259/expertsacademy.png/sr=1
The logo on this link – http://expertsacademyblog.com/wp-content/uploads/2010/09/ExpertsAcademyLogo2.jpg

I would like it to say:

Title: Info ProductPro
Subtitle: Your Guide To Creating Highly Valuable And Financially Rewarding Information Products

From the links that I sent you:

Where it says Experts Academy, put Info ProductPro
Where he has the tagline, use the one I provided
Where he has the silhouettes of the 2 people, replace the left one with a laptop and the right one with a camera or microphone or something

Other notes:

Please use the color scheme and theme from the website – http://productprosystems.com
At the top in text, please write – Best-Selling Author And ProductPro Greg Rollett Presents
At the bottom, please put a ribbon or bar or something with Module 1 on it (something that can easily be changed to Module 2, Module 3, etc)
This will be for web only, so don't need print ready files.
For the header, I would like it to be 977 x 150 with that logo thing in the middle
I am attaching some of our logos, etc as well.

Let me know if you need any more info on this.

Thanks,

Greg
Next Steps Working With Your Designer
Now, the first designs that came back from my designer were close, but here is where you also need to provide critical feedback and instruction on where you would like it to go.
Here are the 3 files samples that were sent to me for my info product.
Sample 1: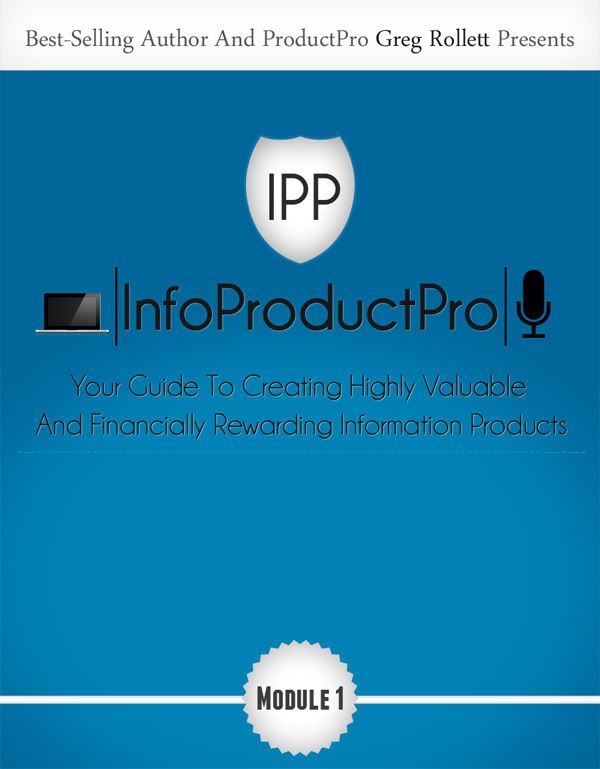 Sample 2:
Sample 3: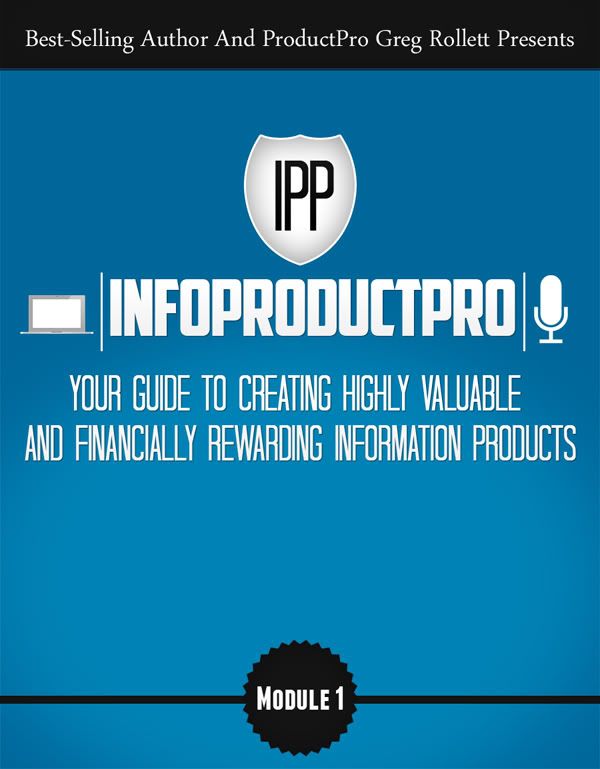 These look pretty good, but I am not super fond of the shield, so here is the email I sent back to the designer with feedback and next steps (note: I already have rapport with this designer. When starting out you will want to provide more detail in the feedback email).
Hi Designer Name,

I love #3.

Here is something that I want to try – can you take the shield – remove the IPP, make bigger and put behind the logo/text?

Love the direction! Great work.
The Final Info Product Cover Graphic
And after that email, I received what you saw at the top of the email which will act as the basis for the entire Info Product Design.
We later created a logo from the center graphic and INFOPRODUCTPRO text area, a header for our website, DVD cases for the videos and an Action Guide cover.
But you will have to wait a little bit to see those. Join the mailing list if you want early notification about this product.
Some Final Tips For Outsourcing Your Info Product Design
We now have 2 great designers that work with us and our clients to create great artwork. But we didn't find them overnight. We looked and looked and interviewed and tested until we found something that we ultimately thought would best represent the ProductPros.
So the first piece of advice is to take your time. I am beyond guilty of this as I always want everything now, now, now. However, finding a great design is always better than finding a quick design.
We use oDesk to post jobs, interview and pay our freelance team. It's a great service that I will write more in-depth on in the future. When looking through applicants on oDesk I would look for someone that has experience working with your type of business, understands the needs and demands, understands the colors, the looks, the fonts and other small detail that can make or break the look.
Lastly, the best product cover designs are going to be the ones where you give the most direction. Always look for sample covers and graphics, give color palettes and let them know exactly what you want. Do not leave it up to their imagination until after you have built up rapport with them and they have shown that they can product quality work time and time again.
What Questions Do You Have About Product Cover Design?
Leave your questions and comments below so we can help you design your best product and begin helping more and more people in your market live the life they desire.
Greg Rollett, the ProductPro